Hello and welcome to Oversharing, a newsletter about the proverbial sharing economy. If you're returning from last week, thanks! If you're new, nice to have you! (Over)share the love and tell your friends to sign up here.
---
Making ends meet.
Furloughed federal workers are turning to Uber, Lyft, and Airbnb as the longest government shutdown in US history drags on. The AP has their stories: Cheryl Inzunza Blum, an immigration lawyer on contract with the federal government, started renting out a room in her home in Tucson, Arizona. Chris George, a furloughed forestry technician supervisor for the Department of Agriculture in Hemet, California, is making $10 an hour driving for Lyft. Kevin Hassett, chairman of the White House Council of Economic Advisers, told reporters on a conference call that a "long-time dedicated employee" was driving for Uber.
"Making ends meet" is a favorite phrase of the gig economy—Airbnb in particular is fond of talking about "middle-class hosts trying to make ends meet"—and the government shutdown has given it new life. Ends are not meeting for many federal employees, who have already missed one paycheck and are on track to miss a second. While actual data is hard to come by, Twitter is filled with stories of workers who've wound up driving for Uber and Lyft as a stopgap measure.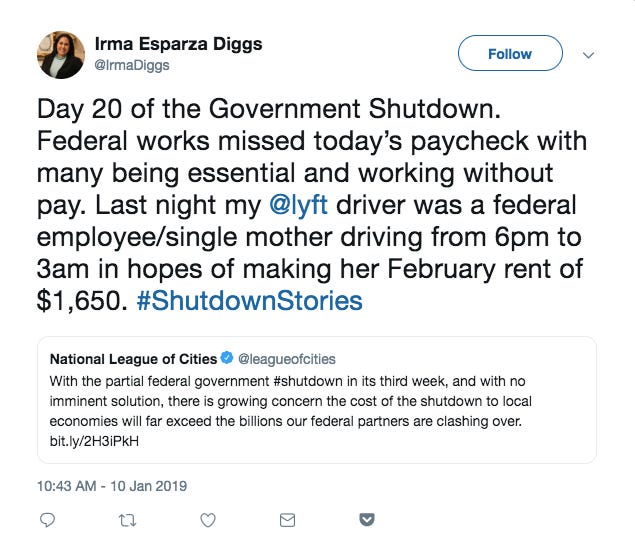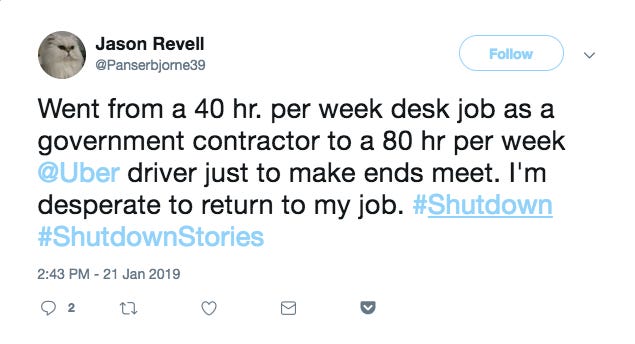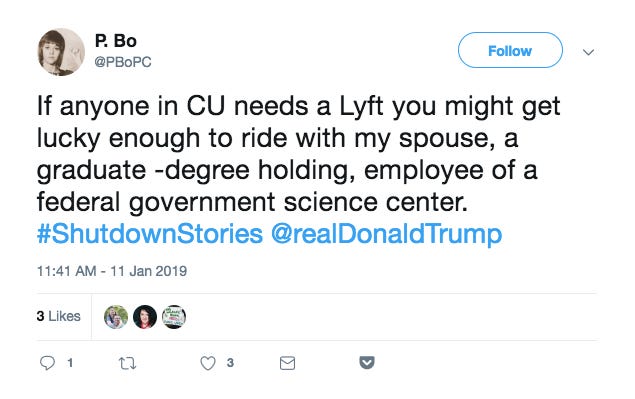 While it's unfortunate that our federal government is filled with politicians who would rather put 800,000 people out of work indefinitely than reach a compromise, it's a good case study in how gig work helps people solve earnings shortfalls. The JPMorgan Chase Institute figured this out back in 2016, concluding that people who did work like driving for Uber or odd jobs for TaskRabbit earned no more in the months they spent on one of these "labor" platforms than in any other month. Gig earnings kept their monthly net income at a steady level but didn't increase it. People who rented assets on a platform like Airbnb, on the other hand, tended to pocket a bit of extra money in those months.
Gig economy work, in other words, is suited well to helping people mitigate short-term financial shocks. Workers flocked to Uber and Airbnb after losing their jobs and retirement savings in the 2008 financial crisis. Gig work may be less well suited to longer or full-time employment, as an frustrated Uber driver would probably tell you. In the case of the current shutdown, federal employees don't expect to be out of work indefinitely, so most probably aren't looking for new jobs. But they do need a way to make money while their paychecks aren't coming in. There aren't many jobs you can get quickly and do flexibly, with little or no commitment. Uber is one of them.
SIU.
Uber's Special Investigations Unit investigates the most severe incidents—theft, verbal threats, rape, rape, physical and sexual assault—reported to the company. As of May 2018, the 60 investigators and 15 team leaders on the unit were overworked, underpaid, emotionally strained, and struggling to keep up with more than 1,000 cases a week, according to a confidential internal memo obtained by CNN:
Although the memo notes that the team members loved "being associated with a 'hot' brand" and its younger employee base, it also said conditions were so bad within the unit that the memo warned of mental health risks to the investigators — even the potential of suicide.

"A single suicide by an Uber investigator who posts that they could not 'take' the job demands any longer will be fodder for the national if not international news media," the memo said.
"We have been putting safety at the heart of everything we do," Uber spokesperson Brooke Anderson told CNN in a statement. "Uber will continue to focus on safety in 2019, including through the release of an accurate transparency report."
The story reminds me of one Adrian Chen wrote for the New Yorker in January 2017, on the human cost of online content moderation. While Uber's investigators aren't forced to look at thousands of disturbing images a day, they bear a similar emotional load in handling calls from victims, who may be angry and aggressive, or describe disturbing physical and sexual assaults. "The issue of untreated depression ... is not only real but increasing," the memo reportedly stated.
All content requires moderation. What exactly the content is is more obvious with a company like Twitter, Google, Facebook, or YouTube. But you could argue that Uber also creates content, and that content is the experience of the ride. Uber tries to "moderate" this with its reviews system, but those reviews are inflated past the point of usefulness. Most rides receive five stars from customers if they are great or good or fine or passably mediocre, and then a handful of rides that are Very Bad either get bad ratings or involve severe incidents that need to be examined by Uber's Special Investigations Unit.
Failed delivery.
Food-delivery company Munchery went out of business over the long weekend, the San Francisco Chronicle reported. The big surprise to me was that Munchery until recently was still in business at all. "Today, with a heavy heart, we're reaching out to announce that Munchery is closing its doors and ending operations effective immediately," the company wrote in a Jan. 21 email to customers. "Any outstanding orders with Munchery will be canceled and refunded."
Munchery was one of many food-prep and delivery startups that popped up during a frenzied period of investment into the "food space." Venture capitalists, seeing how Airbnb dominated hospitality and Uber transportation, figured food was the last unclaimed sector that could produce a company on the scale of Uber. (Everyone eats, right?) Munchery joined on-demand delivery companies DoorDash, Caviar, and Postmates, as well as niche startups like Maple, Sprig, Spoonrocket, and Bento. Discounts and coupon codes abounded as these companies vied for customers, making for a golden age of venture-capital-subsidized meals.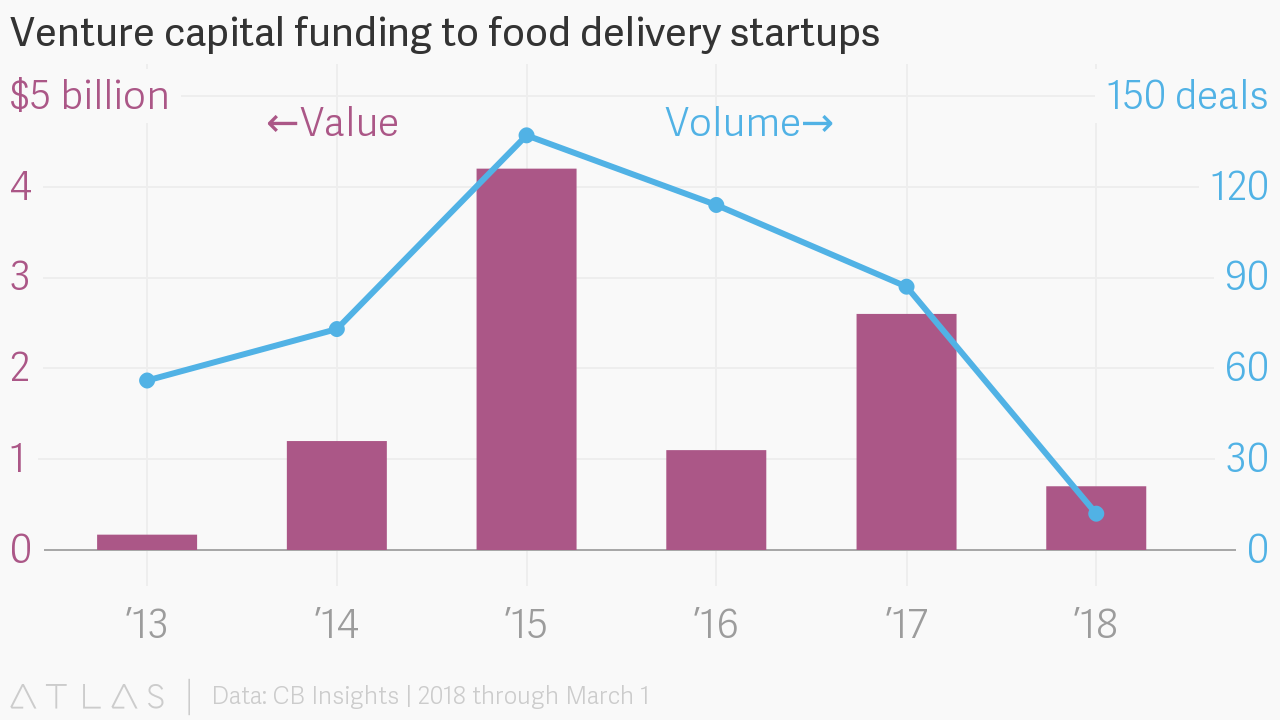 The boom peaked in 2015. A couple years later, most of the once-buzzy startups have shut down or sold for scraps. Insofar as a winner is emerging in the food space, it looks like Seamless parent Grubhub, a public company that predated Silicon Valley's interest in food, or UberEats.
Munchery was one of the startups that delivered and prepared food. Founder and former CEO Tri Tran championed the "cold delivery" method in which meals were delivered ready-to-heat, sort of like a bougie TV dinner. Tran thought this cold delivery would help Munchery reduce costs and avoid some of the logistical difficulties that come with delivering food that must be kept warm.
Unfortunately for Munchery, cold delivery alone wasn't enough to make the business viable. Its long, slow death began in April 2017, when the company raised $5.6 million in a seemingly-desperate recapitalization that wiped out the stakes of its founders and former employees. In May 2018, Munchery ended food delivery in three cities and cut 30% of its staff. This is sort of the point at which I though Munchery went under, but it apparently held on for another eight months! RIP, curly kale in creamy cilantro dressing and oven-roasted salmon with white miso, ginger, and sake. On the other hand, SimplyCook, a subscription-based startup for recipes and "flavor products" (that is tech-speak for "spices"), just raised £4.5 million.
Congestion pricing!
A week after New York governor Andrew Cuomo called for congestion pricing in Manhattan, Los Angeles County transit officials are pushing for a similar plan:
The Metropolitan Transportation Authority is pushing to study how what's commonly referred to as congestion pricing could work in L.A., including converting carpool lanes to toll lanes, taxing drivers based on the number of miles they travel, or charging a fee to enter certain neighborhoods and business districts.

Imposing more tolls would offer a smoother drive for those who choose to pay. Getting more drivers off the road could free up space to speed up bus service, while the billions of dollars in revenue could fund a vast expansion of the transit network, Metro said.
The MTA estimates a per-mile tax on driving could raise $102 billion over 10 years. But it would be an uphill battle in car-riddled Southern California, where a reported three in four commuters drive to work.
"It challenges what Angelenos see as their God-given right to drive anywhere they want," said Manuel Pastor, director of USC's Program for Environmental and Regional Equity. "It would be a challenging shift in a city that's very much a car culture and an individual culture."
The initial response from Los Angeles mayor Eric Garcetti, who is presumably hesitant to antagonize 75% of his constituents at once, was not exactly supportive.
"I don't yet support any particular proposal or congestion pricing as a philosophy," Garcetti said. "But if it can work and if it can help us achieve our goals... I think it's a conversation worth starting. I'm going to push very strongly to do that."
For more on congestion pricing, check out this new 10-minute documentary.
This time last year.
SoftBank builds a ride-hailing empire, Uber eats Ando, Silicon Valley's secret weapon
Other stuff.
The unusual compensation scheme behind Softbank's massive Vision Fund. Waymo One customer says self-driving cars get confused by rainstorms. Uber Is Exploring Autonomous Bikes and Scooters. Uber lawyer challenges Lyft's Bay Area bike-share monopoly. A city in southern Italy is paying people to cycle to work. Airbnb says it's been profitable for two straight years. Airbnb held talks to acquire Hotel Tonight. US consumers say online grocery plagued by high fees and late deliveries. Walmart adds four last-mile providers to grocery delivery operation. Just Eat seeing more competition from Uber and Deliveroo. The Pill Club raises $51 million for online birth control prescription and delivery. Uber against Massachusetts plan to raise fees on ride-hail. Uber fined $1 million for hiking prices during March 2018 snowstorm in Massachusetts. Amazon pushes into ocean shipping. Uber for moving your car. Dallas startup raises $14.5 million to compete with Uber. The Weight I Carry. The Cab Ride That Nearly Killed Me Changed How I Think About Ride-Hailing Apps.
---
Thanks again for subscribing to Oversharing! If you, in the spirit of the sharing economy, would like to share this newsletter with a friend, you can forward it or suggest they sign up here.
Send tips, comments, and Uber #shutdownstories to @alisongriswold on Twitter, or oversharingstuff@gmail.com.