The end of an era for the gig economy
CLXXVIII
Hello and welcome to Oversharing, a newsletter about the proverbial sharing economy. If you're returning from last week, thanks! If you're new, nice to have you! (Over)share the love and tell your friends to sign up here.
---
Time's up.
California is in the final stretch. On Friday, Aug. 30, the state's Senate Appropriations Committee cleared Assembly Bill 5, moving it a crucial step closer to becoming state law. It is now widely expected that the bill, known as AB5, will pass a full Senate vote before the legislative session ends Sept. 13 and be signed by state governor Gavin Newsom. The bill would likely force many gig companies to reclassify their independent contractors as employees, pulling the very foundation of the gig economy out from under it.
Newsom had kept his cards close to the vest on AB5, but on Monday, Labor Day in the US, he publicly declared his support for the bill in an op-ed in the Sacramento Bee. "Reversing the trend of misclassification is a necessary and important step to improve the lives of working people," Newsom wrote. "That's why, this Labor Day, I am proud to be supporting Assembly Bill 5, which extends critical labor protections to more workers by curbing misclassification."
Easy as 1, 2, 3.
AB5 would codify the test for determining whether a worker is a contractor or an employee that was outlined by the Supreme Court of California last year in its Dynamex decision (pdf). The court instructed hiring firms to apply a standard commonly referred to as the "ABC" test, which says a worker is "properly considered" an independent contractor to whom certain wage and hour regulations don't apply only if:
(A) that the worker is free from the control and direction of the hirer in connection with the performance of the work, both under the contract for the performance of such work and in fact;

(B) that the worker performs work that is outside the usual course of the hiring entity's business;

and (C) that the worker is customarily engaged in an independently established trade, occupation, or business of the same nature as the work performed for the hiring entity.
Previous debates over whether workers such as Uber drivers are contractors, as the companies tend to claim, or employees, have focused on how much control these firms exercise over their workers. This is similar to A in the ABC test, and there is evidence for both sides. Uber drivers set their own schedules and enjoy a degree of flexibility uncommon in many employee positions. They do not, however, set the rates they earn as an independent contractor like a plumber might, or have much control over where their work takes them. Gig companies also tend to manage their workers indirectly—through algorithms and user-based ratings systems—and can "deactivate" workers who fall below a certain threshold, tech-speak for firing.
It's harder to argue both sides on B. Do Uber or Lyft drivers perform work "outside the usual course of the hiring entity's business"? Admittedly, I am not a lawyer, but it seems pretty clear that drivers drive, and driving is essential to the "usual course" of business for Uber and Lyft. You could say the same of couriers who deliver food for, well, food-delivery companies such as DoorDash and Postmates. As for C, Dara Khosrowshahi seeded the idea that Uber drivers are independent business operators on the company's second-quarter earnings call, noting that they "run their own business." It's an old Uber talking point that seems to have been rehabbed recently.
Plan B(allot).
Perhaps the surest sign that AB5 will become law is that gig companies have shifted gears from trying to crush the bill to planning a ballot initiative that would exempt them from it. Uber, Lyft, and DoorDash last week pledged $90 million to a ballot initiative that would give drivers some benefits while preserving their independent-contractor status. That's not cheap, but it's a lot less than the estimated $800 million Uber and Lyft alone would owe per year in added payroll taxes, training costs, and workers comp if their workers were employees. "As a Plan B, we are reluctantly funding this initiative," Uber chief legal officer Tony West told the New York Times.
Uber's latest proposal includes paying drivers a minimum of $21 per hour, including the cost of average expenses, while on a trip. That sounds pretty good until you consider that the average ride-hail driver across six US metro areas spends about 33% of their time waiting for a fare, another 9-10% driving to pick up that fare, and only about 58% of the time with an actual passenger in the car, according to a recent study commissioned by Uber and Lyft. Depending how you define "on a trip," that means the typical driver isn't "working" for 33% to 43% of every hour, putting the effective hourly wage at closer to $12 to $14. (New York City's pay floor for ride-hail drivers cleverly solved this problem by adjusting for driver wait-time with a "utilization" rate.)
Other gig companies have also offered concessions. Postmates announced an expanded partnership with Stride Health to give 350,000 couriers access to a "full suite of health and wealth benefits and rewards through the Stride mobile app." AB5 could hit Postmates particularly hard because such a large share of its business takes place in California. Instacart promised similar health and wellness benefits, workplace injury coverage, a student loan repayment program, and a free membership with Care.com. Uber and Lyft previously paid drivers to protest AB5, and encouraged them to contact their legislators to oppose the bill.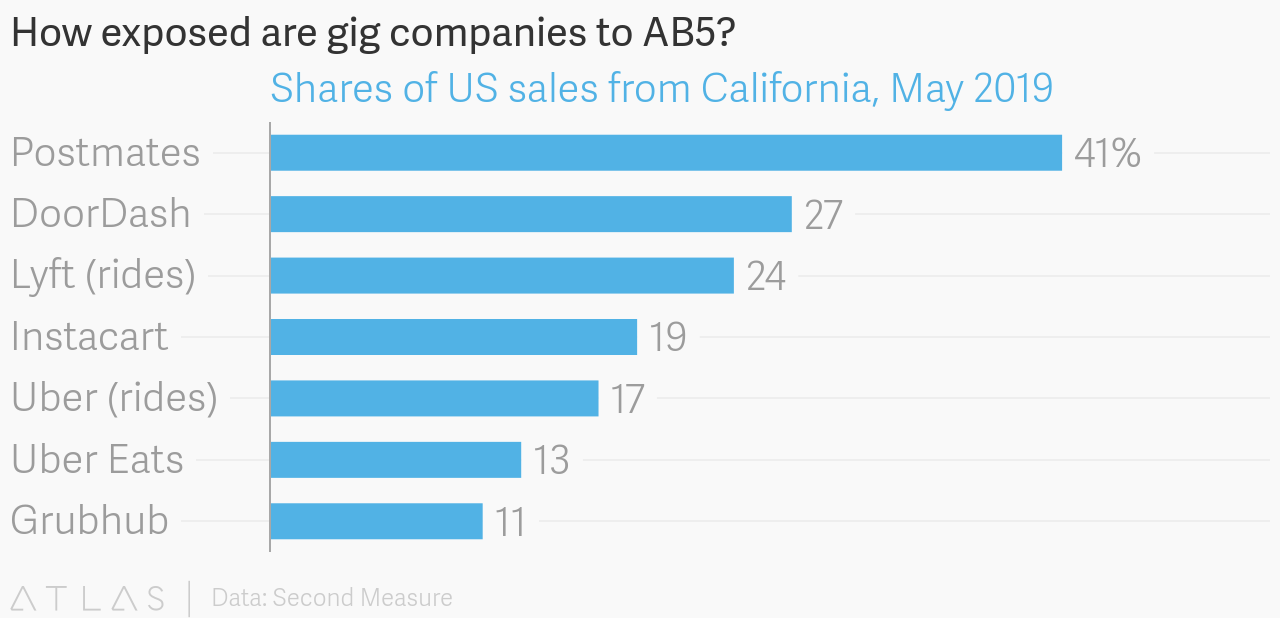 Uber has launched a website, independentdriver.org (not to be confused with the Independent Drivers Guild) that it bills as a "one-stop-shop for information, updates, and action in support of driver flexibility and independence." The site features a small number of video testimonials from drivers who "care about being independent" and invites visitors to record a message "about why flexibility and independence are important." Uber also published a blog post on Aug. 30 making its case for "progressive legislation"—read: not AB5—and citing a bunch of its own research, because policy fights like these are what Ubernomics was made for.
What happens next?
The huge unanswered question is what would actually happen if AB5 were passed and signed into law. It's one thing to talk about reclassifying hundreds of thousands of workers to employees from contractors and another to actually do it. Presumably there would be a lot of paperwork. In addition to having to deal with payroll taxes and workers compensation and minimum wage and other things like that, there's also the very real question of how many workers these companies could actually sustain once employee-related costs got added to the equation. Uber's and Lyft's stock prices have sunk to all-time lows.
Uber has repeatedly said that if drivers were employees, it would "likely have to exert more control over drivers" and "would likely hire far fewer drivers than we currently support." As much as that sounds like a threat, it also may be the truth. A 2017 economics paper co-authored by Uber researchers and John Horton at NYU Stern argued that Uber could do little to raise fares so long as it maintained an open market where drivers could come on and off as they pleased. The logical inversion was that for Uber to raise wages, it would have to close the market, limiting the number of drivers who could come on at any given time, and the hours they could work.
This is already proving the case in New York City, the only metro area to have set a pay floor for ride-hail drivers. After the pay floor took effect, both Lyft and Uber stopped accepting new drivers. Lyft also started giving priority to certain drivers, such as those who maintained especially high acceptance rates or who rented their vehicles directly from its Express Drive program. It's not so crazy to think that if and when AB5 becomes law, something similar could happen in California.
This time last year.
"Move fast and break things" is broken
Other stuff.
Instacart CFO Ravi Gupta leaving for Sequoia Capital. WeWork IPO road show could kick off next week. The investor with a lot riding on WeWork's IPO. Passengers complaint rate declines in Phoenix for Waymo vehicles. Amazon in talks to invest in ride-hail firm Go-Jek. Miami rounds up dockless bikes and scooters ahead of Hurricane Dorian. Didi Chuxing plans robotaxi service in Shanghai. Fair gets $100 million credit facility from Ally Financial for online car leasing. India's restaurants rebel against food-delivery apps. Via licensing technology to New York City school buses. London-based Cazoo raises €28 million for online used car market. Oyo acquires data-science firm Danamica for $10 million. China leans on ride-hailing to boost sales of electric vehicles. Former Barclays CEO tells banks to beware the Uber moment. Stop buying new stuff.
---
Thanks again for subscribing to Oversharing! If you, in the spirit of the sharing economy, would like to share this newsletter with a friend, you can forward it or suggest they sign up here.
Send tips, comments, and other ABCs to @alisongriswold on Twitter, or oversharingstuff@gmail.com.