Discover more from Oversharing
More than you wanted to know about the sharing economy
Shared scooters don't last long
CXLIV
Hello and welcome to Oversharing, a newsletter about the proverbial sharing economy. If you're returning from last week, thanks! If you're new, nice to have you! (Over)share the love and tell your friends to sign up here.
---
Scooters!
They do not last long!
I took a look at data on scooter rides in Louisville, Kentucky, shared online as part of the city's open data policy. The latest data is available here. The data set I used was older and included monthly data on scooter trips from August through December. It also included a unique "ID" for each scooter, a detail that was key to my analysis and has been stripped out of subsequent data sets published by Louisville. The data doesn't differentiate between Bird and Lime, but as Bird started operations in August 2018 and Lime that November, you can assume it skews toward Bird.
With that preamble, here are some things I found:
The average lifespan of a scooter in Louisville from August to December was 28 days

Median lifespan was 23 days

If you stripped out scooter IDs that first appeared in December, to focus on older vehicles, the average lifespan increased slightly to 32 days and the median lifespan to 28 days

Still stripping out scooter IDs that started in December, the median scooter took 70 trips over 85 miles
Scooter lifespan is a key factor in scooter unit economics, as you may recall. The more trips and miles a single scooter can cover, the better for shared scooter companies, which have to recoup the cost of each vehicle before they can start making any money. In October, The Information reported that Bird was spending $551 per scooter with a goal of reducing that cost to $360. At the time, I said that meant Bird needed five rides a day on a $551 scooter for 5.25 months just to recoup the initial cost.
The picture painted by the Louisville data is even worse. Transit enthusiast Nathan Stevens also analyzed the Louisville data for Aug. 9 through Nov. 30, and I'm going to pull in some of what he found to back out scooter economics in Louisville:
Utilization
663 scooters in circulation

The average trip was 1.63 miles

The average trip lasted 18 minutes

The average scooter did 3.49 rides per day
Revenue
Both Bird and Lime charge $1 to unlock a scooter and $0.15 per minute

At 18 minutes, the average trip generated $3.70 in revenue (note that this, based on three months of data in Louisville is nearly identical to the $3.65 in revenue per ride Bird reportedly told investors it was averaging as of June)

At 3.49 rides per day, the average scooter generated $12.91 in revenue per day
General costs, based on reporting by The Information
Bird spent $1.72 per ride on charging costs

It spent another $0.51 per ride, on average, on repairs

Credit card fees cost $0.41 per ride

Customer support adds $0.06 per ride

Insurance is $0.05 per ride
Louisville-specific costs, from dockless vehicle policy (pdf)
$2,000 for a probationary license (required for the first six months of operation)

Additional $1,000 to receive full operating license

Annual $50 fee per dockless vehicle

Daily $1 fee per dockless vehicle

$100 fee per designated group parking area
Louisville daily scooter economics
A scooter generates $3.70 in revenue per ride

Deducting per-ride costs of charging, repairs, credit card fees, customer support, and insurance, leaves $0.95 per ride

Multiplied by 3.49 rides per day is $3.32 in net revenue per scooter per day

Minus the $1 daily fee leaves $2.32
Still with me? Ok. So, our scooter company walks away with $2.32 in revenue per day from the average scooter in Louisville. As we said at the beginning, Louisville data indicates that the average scooter was around for between 28 and 32 days. That means the typical scooter generated something like $65 to $75 in revenue for the company after most operating costs over its lifetime.
You see where I'm going with this. Let's be generous and say the company paid $360 for each scooter, as Bird aims to. At the rates calculated above, that company only recoups $65 to $75 on the cost of each scooter—in other words, it loses $295 to $285 per scooter. That doesn't even include the $50 annual fee per dockless vehicle, the $3,000 in combined licensing fees, or the $100 fee for each designated parking area. Plug in the $551 sticker price for a scooter, and the losses are even greater.
Bad as these numbers are, they maybe shouldn't be surprising. The electric scooters Bird deployed for shared commercial use, at least initially, were rebranded Xiaomi devices intended for use by a single owner with a weight limit of 200 pounds. The average American man weighs 197.9 pounds and the average woman 170.6 lbs. These scooters were also designed to be used in mild weather and on flat surfaces. They were absolutely not designed to be ridden multiple times a day in all kinds of weather and on all kinds of terrain by Americans who, on average, are barely under the scooter weight limit before you adjust for clothes and any baggage (physical, not emotional) they might be carrying. No doubt facing such inconvenient truths, Bird in October unveiled an electric scooter designed with Okai specifically for sharing. It will require great leaps in durability and far cheaper prices for scooters to pay for themselves.
Asked about the Louisville data, a Bird spokeswoman disputed the notion that the typical scooter last only 28 days. "We have a dynamic fleet, move vehicles around, etc.," she said. "Just because it looks like it was in Louisville for 28 days does not mean that was its entire lifespan." Asked where scooters taken out of circulation in Louisville would be moved to—or what other cities Bird operates in near Louisville—she didn't respond. I will assume they simply fly away.
More scooters!
Lime, one of the world's largest electric scooter companies, is urging riders to be extra cautious while operating its devices because of a technical "bug" that can cause "sudden excessive braking during use," the company announced in a statement over the weekend.

The company said testing has revealed that the sudden braking usually arises when scooters are being ridden downhill at top speed. The danger prompted Lime to issue remote updates aimed at fixing the glitch, which have led to a reduction in the number of braking incidents, the company said.
Surely that could never be a problem in a city like San Francisco which is totally, completely, and gloriously flat. Braking issues have also been reported in Switzerland and New Zealand. Lime claims the problem has affected less than 0.0045% of Lime rides, and said it could "work to mitigate but cannot entirely eliminate" such risks. True, you can never eliminate any risk totally, but imagine how this would be handled if the defect were discovered in a car. The automaker would issue a recall encouraging people to bring in their vehicles and get them fixed! Lime in theory has even more responsibility because it owns the scooters, not the users. Being told there's a 0.0045% chance that your shared electric scooter could spontaneously lock and toss you off is like being informed your smartphone has a tiny probability of combusting. The risk is minuscule, but perhaps one you would rather not take.
Deals.
As Lyft and Uber gear up for initial public offerings, with Lyft expected to make its S-1 public sometime this week, discounts are back in style. Both ride-hail companies are ramping up their rider promotions as they vie for market share in the final stretch before an IPO. Lyft made the first move, The Information reported, and increased its US market share by around 4 percentage points.
It is funny how history repeats itself. Subsidies were also big when Uber and Lyft were first jockeying for control of the US market because more riders meant a better growth story and more dollars from investors. No matter that they were practically setting money on fire, they had hockey stick growth! Investors pledged all the dollars!
This time around, the IPO makes everything a bit more complicated (you might call it a complexifier). That's because once Lyft goes public, it will no longer be able to control what information gets out there, like that its market share is approaching 40%, and instead will have to break out detailed financials in quarterly and annual reports.
(As a side note, Lyft appears to be benefiting from a game of telephone where an ambiguous fact reported by Reuters a few weeks ago—that "Lyft plans to tell investors its U.S. market share is approaching 40 percent"—has been repeated and aggregated and re-repeated and re-aggregated enough times to take on new life as an unqualified fact, with PitchBook writing in an analyst note today that Lyft's growth is "robust" and it "recently achieved 40% market share in the US.")
Rider sweeteners may look good now when all you hear about is market share, but freebies don't come cheaply and the spending is sure to make a dent on Lyft's bottom line. The company is likely aiming to stay ahead of those results by listing on the Nasdaq in late March, as the Wall Street Journal reported it plans to, long before first quarter numbers are due.
As of January, data analytics firm Second Measure, which analyzes anonymized purchases, took a somewhat more conservative view of Lyft's US ride-hail market share, estimating it at 29% in terms of sales, compared to 69% for Uber. That said, momentum over the last several years has been in Lyft's favor, with Lyft growing its share of sales while Uber's share has declined.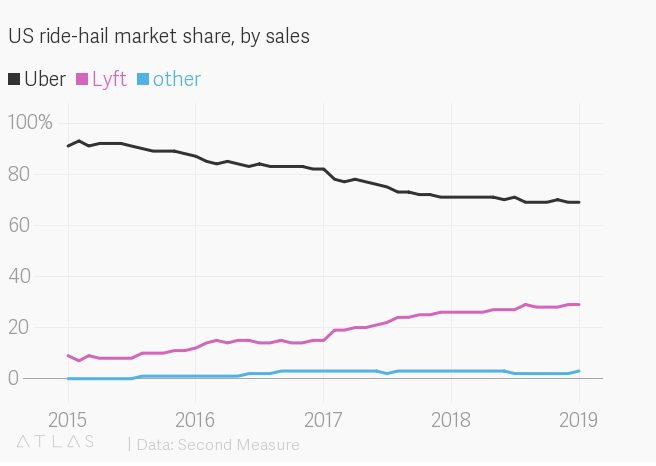 If my inbox is any indicator, Uber isn't sitting idle while Lyft doles out discounts. In the last week, Uber has emailed me twice to offer 50% off my next 10 rides, as well as 30% of 10 UberX rides. Lyft offered me 10% off 10 weekday rides earlier this month; my editor, who lives in San Francisco, recently noted that he was being "extra aggressively" pushed a Lyft promo for 25% off 10 weekday rides.
Stay tuned for Lyft's public S-1 filing to kick off a very crowded and not-at-all-exclusive 2019 🎉 IPO party 🎉.
Extreme fasting.
"Eating is so last season; these days all the cool kids fast," begins this great critique of "extreme fasting" in Silicon Valley by Arwa Mahdawi at the Guardian:
Starving yourself and constructing rigid rules and rituals around when and how you eat is generally seen as a problem when it's teenage girls doing it; when tech bros do it, it's treated very differently. Indeed, in many ways it feels like Silicon Valley is inadvertently rebranding eating disorders.
As Mahdawi notes, fasting and "biohacking" are popular in Silicon Valley, where the human body exists first to be optimized. Fasting acolytes insist their minds are clearer after a sustained period of no food, and that our modern lifestyle of three meals a day is complicated and excessive. The newest trapping of luxury is to be able to afford to starve yourself. I once attended a fancy dinner hosted by a venture-capital firm where a VC sitting near me lavished praise on fasting and described himself as "addicted" to his alternate fasting days, all while tucking into an avocado crab salad and a silver tray of oysters served on ice.
This time last year.
Uber and Lyft worsen congestion, Instacart's tipping bug, "mass destruction" of bike-share in France
Other stuff.
DoorDash raises $40 million at $7.1 billion valuation. Daimler, BMW form $1.1 billion partnership to take on Uber. Uber Eats could sell India business to rival Swiggy. Boxed prepares for a big 2019. ViaVan will launch on-demand bus service in London. Airbnb growing fastest in emerging markets. On-demand logistics startup Lalamove raises $300 million. Real-estate buying site Casavo raises $7.9 million. Jump bikes more popular than Uber in Sacramento. London cabbies lose legal challenge to Uber. Lyft adds Shared Saver. Lyft all in on Amazon Web Services. De Blasio changes mind, endorses congestion pricing. DoorDash cyclist killed in LA hit-and-run. Pinterest files confidentially for IPO. Cara Delevingne spends $25,000 on Postmates. Uber and Lyft Are Officially Part of the Healthcare System. Finance blogger dreams up car-free community in Colorado. Illegal Airbnb empire. The Trauma Floor. Barnacle bike. All of a Sudden, Flying From LA to New York Is Taking Less Than Four Hours.
---
Thanks again for subscribing to Oversharing! If you, in the spirit of the sharing economy, would like to share this newsletter with a friend, you can forward it or suggest they sign up here.
Send tips, comments, and barnacled bikes to @alisongriswold on Twitter, or oversharingstuff@gmail.com.