Scooter unit economics are worse than they seemed
CXXX
Hello and welcome to Oversharing, a newsletter about the proverbial sharing economy. If you're returning from last week, thanks! If you're new, nice to have you! (Over)share the love and tell your friends to sign up here.
Scooters!
Bird is on pace to book "hundreds of millions of dollars" annually in gross revenue, The Information reported. That's after telling investors this summer that it would reach around $65 million in annual revenue.
In a pitch deck to investors reviewed by The Information, Bird shared a bunch of numbers on its business model, which I've pulled and loosely categorized below:
Usage
Bird provided 170,000 rides per week in the first week of May

80,000 of those rides happened in the LA area

Bird had around 10,500 "active" scooters in early May

Each "active" scooter was used five times per day
Supply chain
Each scooter cost $551 (price includes a GPS device, shipping, assembly, and Bird branding)

Bird aimed to lower scooter cost to $360
Unit economics
A scooter generated $3.65 in revenue per ride

Bird spent $1.72 per ride on charging costs

It spent another $0.51 per ride, on average, on repairs

Credit card fees cost $0.41 per ride

Fees to city permits are $0.20 per ride

Customer support adds $0.06 per ride

Insurance is $0.05 per ride

That leaves about $0.70 per ride, or a 19% gross profit margin
The pitch deck figures, while a bit outdated, add helpful context to backing out the unit economics of scooter companies. When we talked about it in July, I said some of the big unknown costs were scooter lifespan and depreciation, maintenance and repair costs, and other operational costs. We know from The Information that repairs and other costs (credit card fees, city permits, customer support, etc.) are not insignificant, and quickly cut into a scooter's profit margin.
The other lingering big question mark is how long the typical scooter lasts under heavy shared use. Investors and industry executives told The Information that today's electric scooters tend to last one to two months before they need to be replaced, which sounds about right. That makes Bird's effort to build custom scooters with more battery life and durability all the more urgent. At $551 a device, Bird earlier this year was paying on the high end for its Xiaomi scooters, which retail for about $500 on Amazon but $320 (1,999 yuan) in China.
Pulling it all together: If a Bird scooter that cost $551 was earning $0.70 per ride at five rides a day, that's $3.50 a day. At that rate, it would take 157 days or 5.25 months for Bird to recoup the scooter's initial cost, which, apparently, is much longer than that scooter was expected to last. (At the goal cost of $360, it would take 103 days, or a little less than 3.5 months.) Until Bird gets the price of a scooter down and utilization and durability up, the economics aren't as good as they seemed at first glance.
It's the economy.
My coworker Yinka Adegoke has a smart piece in Quartz, "In African cities, the 'gig economy' is called the economy":
Uber and Airbnb are a big part of the discussion about the "gig economy," but they're actually a small part of the various types of short-term, freelance work many people now do around the world, access to which has been made more efficient by technology.

For many African countries, the gig economy could just be called "the economy." For example, just 17% of Kenyan employment is formal. Many of these economies are driven by the informal nature of the gainful employment that exists.
An October research paper from the Center for Global Development (CGD) found that people in African cities tended to like all kinds of flexible work, from driving for ride-hail companies to selling on e-commerce platforms. "For decades, the informal sector has been the engine of employment growth across the continent, with gig work a big part of that," the paper states. "Accordingly, the focus should be on improving the working conditions of independent workers amid the growth of the digital economy, rather than continuing to pretend that regular, formal, contracted employment is the way that people—particularly youth—want (or even should want) to earn a living."
This is an interesting argument. In the US, the gig economy debate so far has tended to circle around whether gig workers are actually gig workers, or traditional employees who were mislabeled as independent contractors and stripped of their workplace protections. Improving the lot of gig workers with new benefits models and labor protections has always been a secondary matter.
Uber heads to UK court today to argue on the first matter, contesting an October 2016 employment tribunal ruling that deemed a group of Uber drivers to be "workers" entitled to paid holiday and minimum wage protection, rather than self-employed. Worker is an employment status in the UK somewhere between employee and self-employed in the US (all employees are workers, but not all workers are employees). Signs that someone is a worker include occasional work, a contract that uses terms like "casual" and "freelance," and having to agree to the business's terms and conditions to get work.
Uber already appealed the tribunal once, losing in November 2017. Now it's taking its case to the Court of Appeal, which comes before the Supreme Court. Uber has 60,000 licensed private drivers using its app in the UK, and unions estimate holiday pay and minimum wage could cost the company £18,000 per driver working a 40-hour workweek. The company made some preemptive changes to its worker policies earlier this year, like offering limited insurance coverage for sickness and injury, and small parental leave payments. But, of course, the debate has returned like it always does, to the matter of classification. "Almost all taxi and private hire drivers have been self-employed for decades," Uber said in a statement to TechCrunch, "long before our app existed."
Rent-seeking.
A court ordered a tenant who frequently sublet her Paris flat to tourists on Airbnb to pay all of her earnings to the apartment's owner:
The tenant must pay her landlady nearly £42,000 earned from short-term rentals since 2011, in addition to £1,800 in damages and legal fees. She breached the law by failing to obtain written consent from the property owner.

Like other cities around the world, Paris is restricting holiday rentals in an attempt to alleviate a growing housing crisis, but it is the first time a French court has handed out such a severe punishment to a tenant.
The flat owner reportedly took her tenant to court after finding the property listed on Airbnb in 2017. An investigator found the tenant had sublet it without permission for 767 days since 2011, for about €60 a night. "The expulsion, with a record penalty, will dissuade tenants from breaking the law," the landlord's lawyer told Le Figaro, according to The Times. The landlord has also sued Airbnb for violating Paris's 120-day limit on short-term rentals and for failing to remove the listing after being contacted about the sublet.
Paris is Airbnb's biggest market, with about 60,000 units for rent. The city has intensified its campaign against Airbnb, with city council member Ian Brossat telling AFP in September that he Paris is turning into an "open-air museum." Paris threatened to sue Airbnb in December 2017 if the company didn't take down hundreds of apartments whose owners had failed to register with local authorities. The French parliament is considering a bill that would fine platforms that failed to remove unregistered listings from their sites.
Eat up.
After a great run, Grubhub's stock has been sinking since mid-September. It tumbled 12% on Oct. 25 after cutting its outlook for the fourth quarter and another 8.8% on Oct. 26 heading into the weekend. Grubhub said it would spend $20 million to $30 million more on marketing and delivery expansion in the fourth quarter, possibly reflecting the increased pressure the company is feeling from Amazon Restaurants and UberEats.
Uber has been aggressively expanding Eats over the last year, ahead of a planned IPO in 2019. The company is seeking a valuation of $120 billion in a public offering, with Eats reportedly valued at up to $20 billion, more than twice the $7.9 billion market cap of Grubhub. Eats had a $6 billion annual run rate earlier this year, with sales on Eats making up about 13% of global revenue in the first quarter, the Financial Times reported. Both Eats and DoorDash appear to be gaining ground on Grubhub, per data provided to the FT by research firm Second Measure.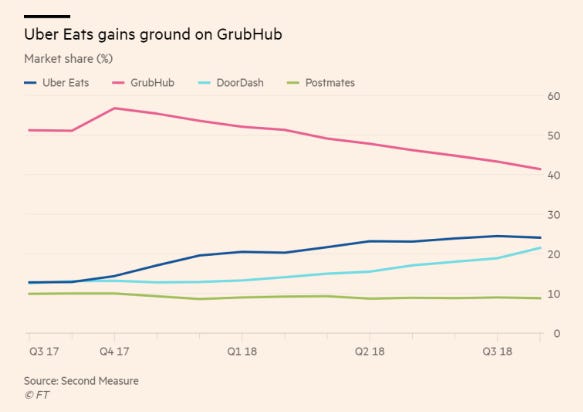 Elsewhere in food delivery, Postmates is apparently being single-handedly kept afloat by its no. 1 customer, Post Malone, who spent more than $40,000 on orders, including one $8,000 order from Popeyes for a Coachella party, over the past year.
This time last year.
Paul Manafort's swanky Airbnb, econ-themed Halloween costumes, Managed by Q unit is profitable
Other stuff.
Didi Chuxing mulls move into hotel bookings. Uber introduces subscription ride pass in five cities. UPS tests urban delivery with electric bicycles in Seattle. Ford plans electric scooter service called Jelly. Mexico-based scooter company Grin merges with Brazil-based Ride. Uber to launch Jump scooters in Austin. Lime hires David Richter from Uber. Airbnb hires Ari Balogh from Google as chief technology officer. Didi opens regional office in Melbourne. Via expands to Arlington County. Properly raises $8.5 million for Airbnb housekeeping and inspection services. Airbnb will put six figures behind host running for New York State senate. Ireland plans limits on short-term rentals. Meet the DC Couple Who Manage 60 Airbnb Listings. Y Combinator seeks emissions-fighting startups. This Sensor Tells Your Airbnb Host if it Thinks You're Having a Party. Why Airbnb Will Be Worth More Than Uber. Elon Musk says Tesla will "obviously" take on Uber and Lyft. The Mega Millions lottery is based on a lie.
---
Thanks again for subscribing to Oversharing! If you, in the spirit of the sharing economy, would like to share this newsletter with a friend, you can forward it or suggest they sign up here.
Send tips, comments, and $8,000 Popeyes orders to @alisongriswold on Twitter, or oversharingstuff@gmail.com.