Economists figured out the best way for Uber to say sorry
CXX
Hello and welcome to Oversharing, a newsletter about the proverbial sharing economy. If you're returning from last week, thanks! If you're new, nice to have you! (Over)share the love and tell your friends to sign up here.
Quartz will face off against Apatite in the second round of the 2018 Mineral Cup, after it roundly demolished Staurolite.
Say sorry.
In January 2017, John List, an economist at the University of Chicago, had a very bad Uber ride. List had called the Uber to get to a conference in downtown Chicago, where he was supposed to present a paper. The trip, List says, wound up being a "whirlwind tour" of Chicago and taking twice as long as it should have.
Fortunately for List, he wasn't just any aggrieved rider. He was also Uber's chief economist, and he took his complaint straight to Uber's CEO. "I called Travis and I told Travis, 'I will never use your app again because I got this terrible trip,'" List says. "And I said, 'to compound the bad trip, I haven't even received an apology from Uber.' And he said, 'well, we'll get to that, and why don't you work on it?'"
The result, a working paper (pdf) titled "Toward and understanding of the economics of apologies," is due out in the National Bureau of Economic Research this month. In it, List and three collaborators, all but one of whom are affiliated with Uber, analyze an experiment involving 1.5 million Uber riders to determine if and how the company should apologize when a customer has a bad experience.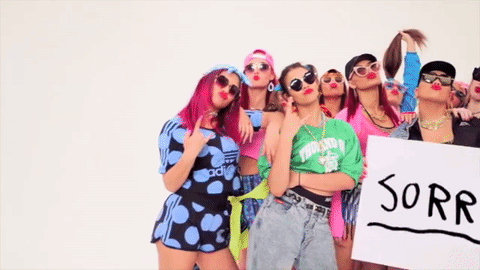 List and his co-authors define a "bad ride" as one that arrives later than the ETA provided by Uber. Company data showed that riders whose bad rides arrived more than 5 minutes late tended to spend 5% to 10% less on Uber in the future than would otherwise have been expected. In other words, people who have bad experiences on Uber are less likely to take Uber again.
How could Uber mitigate this? From June to October 2017, List's team tested eight possible responses on 1.5 million US riders whose "bad" trips dropped them off 10 to 15 minutes late. The responses came via email within an hour of the bad trip ending, and combined a possible financial remedy (a promo code for $5 off a future ride) with one of four written apology options, described in the paper as follows:
No apology

Basic apology, e.g., "Oh no! Your trip took longer than we estimated."

Status apology, e.g., "We know our estimate was off."

Commitment apology, e.g., "We're working hard to give you arrival times that you can count on."
You can visualize that with this beautiful apology flow chart I drew: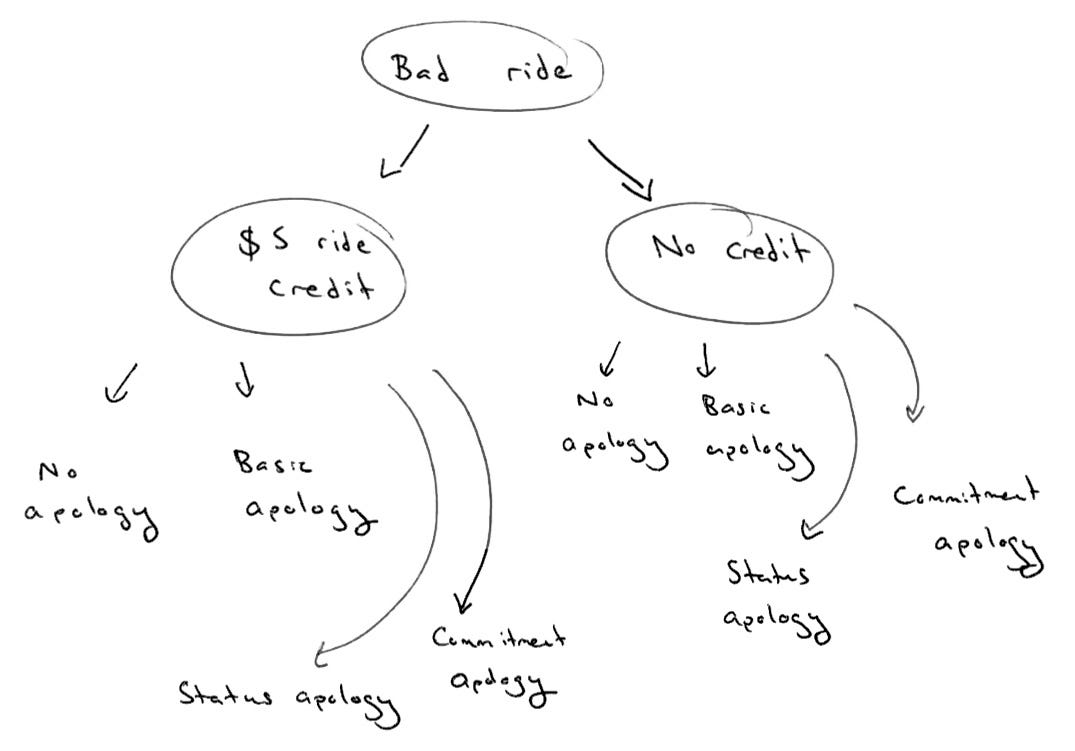 The economists spent a couple months sending Uber riders these apology notes, and maybe a $5 ride coupon, and they found that… people like getting free rides! "Our principal finding is that it is primarily a promotional code that can be used for a future trip that restores the firm's reputation and not the apology itself," they write. Too many apologies without promo codes, they note, can do more harm than good, because they come across as empty promises of improvement. The economists also found that apologies are more effective for a little and a lot of lateness, and least effective for moderate lateness, where the rider is most likely to blame Uber for the bad experience.
The results are strikingly similar to the findings of a February 2018 paper from researchers at NYU and Via, a ride-hail app that operates in New York, Chicago, and Washington, DC, with exclusively shared rides. In that experiment, the researchers considered how best to compensate several thousand "frustrated" riders who were picked up at least 8 minutes later than Via estimated in New York and DC (the Uber paper, remember, dealt with late drop-offs). They tried compensating the frustrated riders in the following ways (my paraphrase):
Control: no compensation

Communications: riders received a text message from Via to apologize for the inconvenience, but no financial compensation

Credit: riders received a $5 credit for future rides

Waived: charges for the ride were refunded to the rider
Each rider received their "compensation" in a text message from Via. They found the $5 credit was "significantly more effective" than either a text apology or waiving the charge for the ride, as "providing a credit value offers an opportunity for the rider to use the service again." The $5 credit also turned out to be revenue positive for Via, as frustrated New York riders who got a promo went on to spend 12% more, on average, and frustrated DC riders 37% more, also on average, than frustrated riders in those cities who weren't compensated in any way for their late pickups (the control group). Both this study and the Uber one also found that a $5 promotion timed to a bad ride experience was more effective than a random or generic $5 promo.
For economists, experiments like these are appealing because their findings can lead to actual change at the company. "What's exciting is you can have an impact," Maxime Cohen, a professor at NYU Stern and author on the Via paper told me earlier this summer. "This example of trying to analyze and identify the frustration and proactively reach out and compensate… that's something that me and my colleague came up with, and now it's implemented."
Postmates!
Wow remember Postmates with its gross subway ads and shady pricing? Yes well they are still kicking. According to Fortune, Postmates has raised $300 million from Tiger Global at a $1.2 billion valuation, making it the newest startup unicorn. Postmates competitor DoorDash raised $250 million in August, at a valuation of $4 billion.
"We didn't have plans to raise additional capital," Postmates CEO Bastian Lehmann told Term Sheet. "Tiger Global approached us and said it's time to put some more gas in this machine. So we decided to show everyone what we could do if we invest a bit more heavily in growth."
And:
"We have a beautiful path to an IPO in 2019," Lehmann said.
I mean, sure, ok, I'll believe it when I see it. The company has yet to become profitable—per Fortune it is "profitable on a per-order basis" in 90% of markets—despite Lehmann previously saying Postmates would be profitable by 2016, 2017, and, uh, 2018. Remember the era of "profitable profitable?" Ah, good times. Based on a quick scan of Twitter, it looks like Postmates is still up to its old tricks:
@Postmates why is it free delivery but then you still try to pull the $7.88 for service fee by hiding that in the tax? 🙃🙃🙃 pic.twitter.com/VpzT8Ki6oi

August 9, 2018

@Postmates $30 in hidden fees later and still no lunch. Postmates has the shadiest practices and worst customer service by far. I will be telling everyone I know and switch to Uber Eats. $20 service fees and taxes plus $10 in delivery fee and NOTHING FOR RESTAURANT OR DRIVER!!

September 17, 2018
Commuting woes.
The average American commute got 18 seconds longer in 2017, adding up to an extra 2.5 hours over the year, according to newly released Census data. New Yorkers posted the longest commutes, on average, at 37 minutes in one direction, followed by people in Washington, DC, who spent 34.9 minutes in transit one way.
Commute times have been on the rise nationwide since 2010. A March 2015 report from the Brookings Institution's Metropolitan Policy Program shed light on a key factor driving the trend: As the country has become increasingly suburban, jobs have moved farther from population centers.

"Between 2000 and 2012, the number of jobs within the typical commute distance for residents in a major metro area fell by 7 percent," the report said.
I would also hazard a guess that the New York City subway system's ongoing descent into hell might have something to do with the fact that commutes in New York keep getting longer, but hey, who knows. I'm sure the mayor's office will come up with a way to blame it on Uber.
Weather trouble.
"Self-Driving Cars Can Handle Neither Rain nor Sleet nor Snow," is the blunt headline of this story in Businessweek. Rain, sleet, snow, and in Boston, seagulls:
In Boston, where NuTonomy has been road testing autonomous vehicles in cooperation with city planning officials, snow and seagulls have emerged as two of the biggest obstacles.
…For the local breed of unflappable seagulls—which can stop autonomous cars by simply standing on the street, unbothered by NuTonomy's quiet electric cars—engineers programmed the machines to creep forward slightly to startle the birds. There's not yet a solution for Boston snow.
Snow—not seagulls—is where Boston-based startup WaveSense thinks its road-scanning system can help. WaveSense's technology can reportedly "scan 10 feet beneath the ground to reveal soil, water, roots, and rocks," which is supposed to help driverless cars get a better grasp on their surroundings in inclement weather. The company has raised $3 million in seed funding and signed two undisclosed customers to test its sensors on driverless cars.
Elsewhere in commuting, Waze hasn't kept up with flooding and road closures from Hurricane Florence, the AP reports:
Miguel Melo, 22, said he was trying to drive from North Carolina to Florida to get to a friend's house when his SUV stalled out in high water in Lumberton. He was waiting with his stalled car on a service road parallel to flooded Interstate 95.

"The GPS brought me here. It's stupid, and it's really bad. I'm in trouble," said the Raleigh resident, who was parked in a dry spot of road.
Remember when Apple Maps wanted you to drive off a cliff? Just wait until GPS and hurricanes mix with self-driving cars.
Other stuff.
Uber in talks to buy Careem. GoJek seeks $2 billion in funding. Ola raises $50 million. Uber to invest $150 million in Toronto on driverless cars. Uber starts new chapter in London. Ride-hail drivers in India hit by rising fuel costs. Glitch in Uber InstaPay affecting drivers. Taxify overtakes Uber with motorbikes in Africa. Danish Supreme Court upholds hefty fines for unlicensed Uber drivers. Uber drivers force riders to cancel when fares are too cheap. US ride-hail market cools off. Former Uber exec sues Rachel Whetstone. Instacart hires chief technology officer. Lyft hires Tesla's Cal Lankton. Instacart teams up with Walmart Canada. LA will let some Airbnb hosts rent all year. Uber rebrands, again. Rideshare with Care. Rent a Porsche. Airbnb for cyclists. Airbnb for swimming pools. Airbnb Offers Free Stay to Bachelor in Paradise Contestant Who Was Broken Up With on Finale. There's No Stopping Toronto's Uber-Raccoon. Is Uber a Verb? Where in the World Is Larry Page?
---
Thanks again for subscribing to Oversharing! If you, in the spirit of the sharing economy, would like to share this newsletter with a friend, you can forward it or suggest they sign up here.
Send tips, comments, and bad GPS directions to @alisongriswold on Twitter, or oversharingstuff@gmail.com.