Hello and welcome to Oversharing, a newsletter about the proverbial sharing economy. If you're returning from last time, thanks! If you're new, nice to have you! (Over)share the love and tell your friends to sign up here. Great work hitting the like button last week 👏
My good friend and fellow Substacker Walt Hickey was nice enough to have me on for the weekend edition of his excellent newsletter, Numlock News, to talk WeWork and scooters. Longtime readers of Oversharing may remember Walt as the genius behind the best Secret Santa gift I've ever received, a theme song for Oversharing. The second half of our chat, on California's AB5, will be in this weekend's Numlock. Sign up!
---
Tech blues.
Meal-kit company Blue Apron is exploring a potential sale or merger, the company said Tuesday in its fourth-quarter earnings report. Once valued by private investors at $2 billion, Blue Apron has wilted like overcooked spinach in the public markets.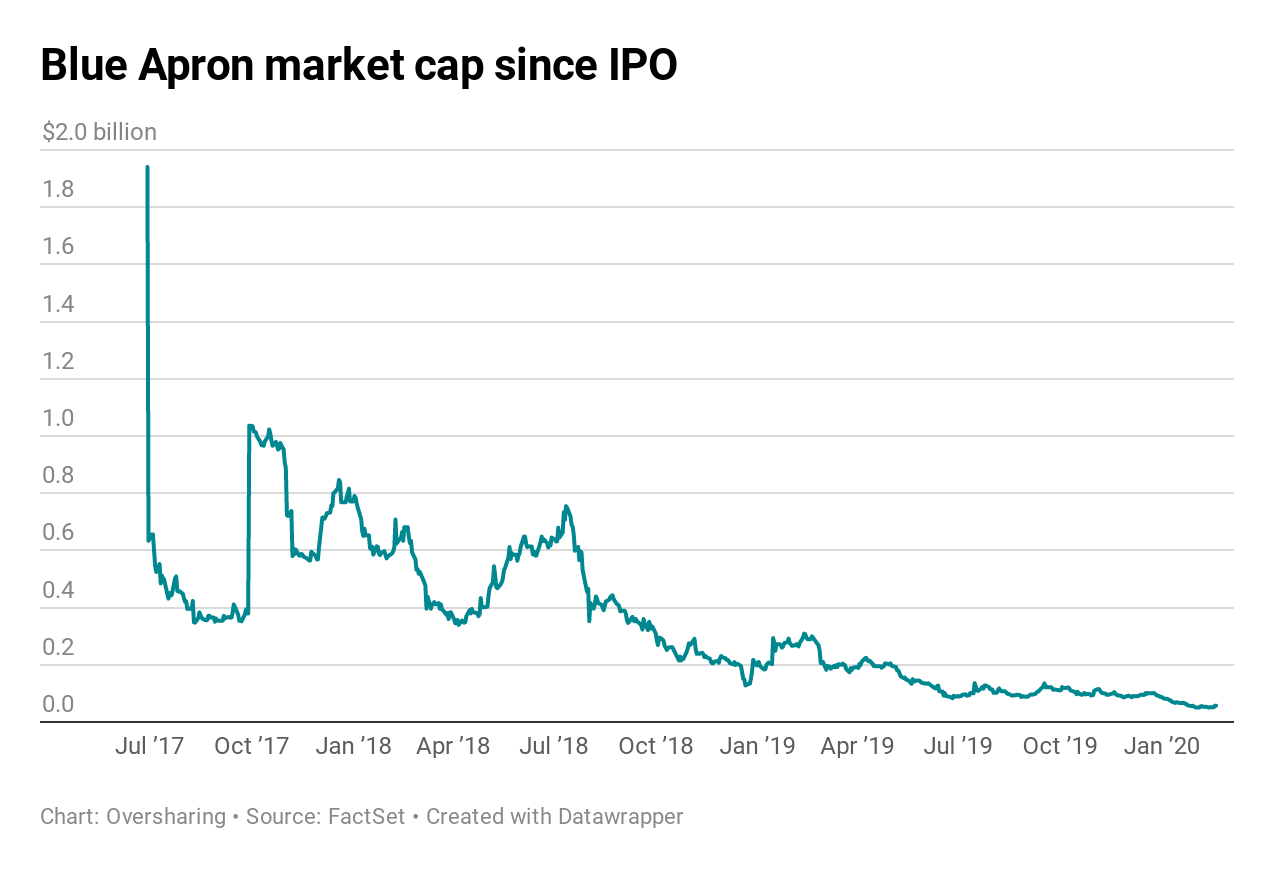 A recent theme of this newsletter has been tech companies that aren't really tech companies. Blue Apron and the broader meal-kit sector is one of the best examples of this. In case you aren't familiar, Blue Apron was founded in New York in 2012 to "rethink the food system" and help people learn to cook. Blue Apron shipped recipe instructions and pre-portioned ingredients in boxes with lots of ice packs to customers around the US. The company's core functions included sourcing the ingredients for those meal boxes, prepping and packaging them in warehouses, and handling the delivery, all decidedly non-techy activities.
It wasn't just Blue Apron! There was Sun Basket, Green Chef, Purple Carrot, Plated, HelloFresh. These companies received tens of millions of dollars from private investors (or, in the case of Blue Apron, $557 million from investors, roughly 12x its current market cap) who were perfectly willing to treat them like tech startups. The companies used that money to source ultra-high-quality ingredients and buy podcast ads touting massive customer discounts.
When did you stop needing tech to be a tech startup? It strikes me that we often conflate companies that use tech to facilitate their businesses with ones that at their core are tech companies. Uber is "tech" because it has an app and sophisticated matching and routing algorithms, but underneath that it's a logistics and transport platform. Airbnb is "tech" because it has an app and a website that connect people around the world, but really it's a travel and hospitality company. WeWork said it was a tech company but the public markets knew it was a real estate business. Casper is hilariously not a tech company but because it sold mattresses online instead of in mattress stores like everyone else it was embraced by the tech crowd.
It would take more than slick apps, clever algorithms, and online sales portals for us to start calling Fedex, Marriott, Regus, and Mattress Firm tech companies. But we readily apply the tech label to their digitally native competitors that did things tech startups do, like raising money from VCs and bragging about disruption. Direct-to-consumer startups like Blue Apron and Casper (which aren't even all that direct—they're still middlemen!) fit in because they talked not about selling mattresses and boxing up meat and potatoes but about revolutionizing the sleep economy and transforming the way people eat. That was enough to convince some private investors, but hasn't changed that Blue Apron is an overly complex grocery delivery apparatus that has never made a profit as a public company and still can't say when it might.
WeWork 2.0.
Budget hotel chain Oyo is widely thought to be the new crown jewel in the $100 billion SoftBank Vision Fund portfolio, following the failed IPO and meltdown of former SoftBank darling WeWork. That status has heightened scrutiny of Oyo and its 26-year-old founder and CEO, Ritesh Agarwal.
A high-flying company with a charismatic CEO, bundles of SoftBank money, and aggressive expansion plans, Oyo is now widely thought to be the "next WeWork." Oyo knows this, and is scrambling to recast its story around sustainable growth and profitability. It's laid off more than 2,100 workers across India, China, and the US so far this year, and reportedly plans to cut another 1,200 in India in the coming months.
Founded in 2013, Oyo is effectively a hotel franchise. It finds budget hotels with little visibility or online presence, then renovates and refurbishes them to operate under the Oyo brand. It also has a short-term apartment rentals business. Oyo started in India, and from there expanded to Malaysia, Nepal, China, the UK, and the US.
On paper, Oyo is India's second-most valuable startup, behind only payments company Paytm. But the terms are dicey. Oyo received its $10 billion valuation late last year in a $1.5 billion funding round whose sole participants were Agarwal and the Vision Fund. Agarwal borrowed $2 billion from banks for the deal in loans personally guaranteed by SoftBank chief Masayoshi Son. Before that, Oyo was valued at $5 billion in a venture round completed earlier in 2019 and backed by a wider slate of investors.
Parallels to WeWork are easy to draw. Both Oyo and WeWork secured rich paper valuations in private financings led by SoftBank. Both had charismatic cofounder-CEOs who wowed Son with their vision and ambition. Both spent heavily on new locations and racked up losses amid frenzied global expansion. Oyo even dabbles in co-working.
The clearest common denominator, of course, is SoftBank and the ambition and capital it infuses into startups that may not be prepared for it. Recall how SoftBank instructed Adam Neumann to make WeWork "ten times bigger than your original plan" and told the founder of robot-pizzeria Zume he would change the world.
Asked last week by an analyst on SoftBank Group's latest earnings call whether SoftBank had pushed Oyo too hard, Son said he didn't feel that way. "If people can grow and they have room to grow, I think money can be very useful," he said. "Whatever the revolution is, money always was necessary."
For sale.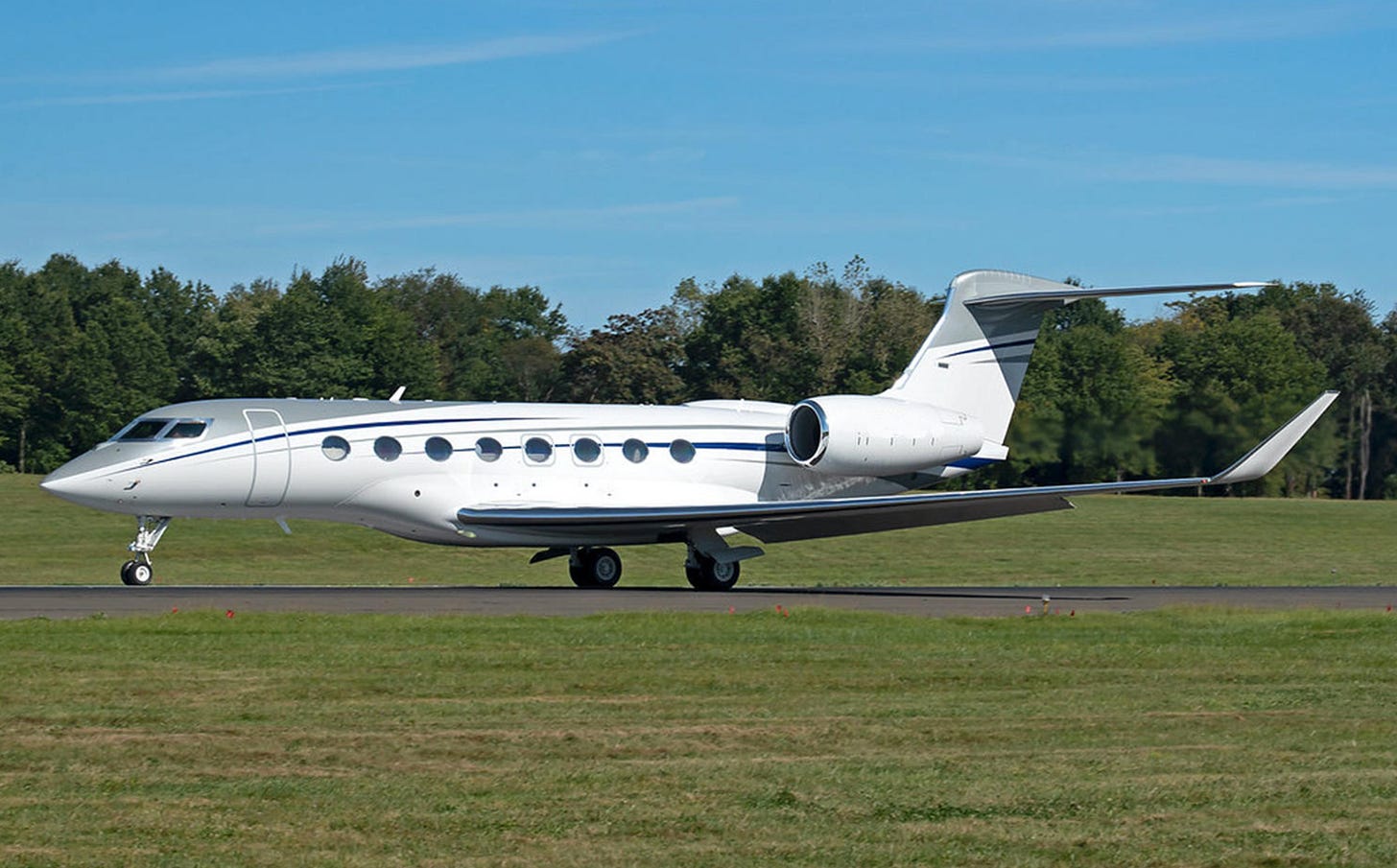 Gulfstream G650ER, lightly used

16-passenger interior

Microwave and high-temp convection ovens

Dual coffee makers

Passenger cabin
Pay up.
They don't call it "binding arbitration" for nothing:
A federal judge in San Francisco has ordered food-delivery startup DoorDash to arbitrate more than 5,000 workers' labor disputes, a ruling that could cost the company millions.

In a decision on Feb. 10, US district judge William Alsup wrote that for decades employers have forced arbitration clauses and class-action waivers, taking away their right to go to court and to sue collectively. "The irony, in this case, is that the workers wish to enforce the very provisions forced on them…," he noted.
Arbitration clauses are popular among companies seeking to avoid class-action lawsuits, especially in the gig economy where worker status is frequently contested.
DoorDash is one of these companies. But DoorDash apparently never considered that it might get pummeled with arbitration claims and their associated filing fees. The company is now on the hook for roughly $9.5 million in fees to process more than 5,000 arbitration claims from delivery workers who say they were misclassified as independent contractors instead of employees. That's down from an initial $12 million in fees after DoorDash got some of the claims dismissed.
In "irony upon irony," to quote judge Alsup, DoorDash faced with this rather spectacular bill attempted to get out of the arbitration it foisted on couriers to begin with. "No doubt, DoorDash never expected that so many would actually seek arbitration," Alsup wrote in his decision. "DoorDash now wishes to resort to a class-wide lawsuit, the very device it denied to the workers, to avoid its duty to arbitrate. This hypocrisy will not be blessed, at least by this order."
Alsup is one of my favorite judges, prone to spicy courtroom declarations like "I can no longer trust the word of the lawyers in this case" and "you lawyers are killing us." He presides over many major tech lawsuits, is devastatingly punctual, and even taught himself to code. "I know the witness is a busy man," Alsup once said of Eric Schmidt, "but the jurors' time counts a lot more right now." Alsup is a no-bullshit person presiding over a realm where bullshit often thrives. It is simply delightful to imagine him saying to DoorDash in court: "You don't want to pay millions of dollars, but that's what you bargained to do, and you're going to do it."
This time last year.
What Uber didn't share in its latest quarterly report
Other stuff.
DoorDash, Postmates, Uber Eats have each discussed mergers. Waitr to lay off food-delivery employees, switch to independent contractors. Elliott's SoftBank stake a test for shareholder activism. Gojek Buys $30 Million Stake in Taxi Operator Blue Bird. Uber capped California commission but has quietly raised "marketplace" fee. Uber shuts customer support office in Los Angeles, lays off 80 people. Uber tests telephone bookings for non-smartphone users. Didi installs plastic sheets in cabs to guard against coronavirus. WeFlex gets £10 million loan facility for ride-hail vehicle rentals. Indian food-delivery startup Swiggy raises $113 million. Tier Mobility acquires London-based charging startup Pushme. GrabWheels raises $30 million. SF mayor pushes congestion pricing. Bill Gates is never going to buy a Tesla. Prague wants to put Airbnb in check. Ofo is a shopping app now. How the race to bring us better beds led to a recycling nightmare. Irish entrepreneur gets £20 million for fresh dog food start-up.
---
Thanks again for subscribing to Oversharing! If you, in the spirit of the sharing economy, would like to share this newsletter with a friend, you can forward it or suggest they sign up here.
Send tips, comments, and private jet bids to @alisongriswold, or oversharingstuff@gmail.com.