Hello and welcome to Oversharing, a newsletter about the proverbial sharing economy. If you're returning from last time, thanks! If you're new, nice to have you! (Over)share the love and tell your friends to sign up here.
Happy new year!
---
TK.
In 2010, at the start of the now-previous decade, Travis Kalanick had just become CEO of Uber, a nascent black-car service offering rides at the touch of a smartphone button. By the middle of the decade, Uber was the most valuable startup in the world. Kalanick, sporting an Alexander Hamilton Twitter avatar, was short-listed for Time's 2015 Person of Year. Two years later, with Uber in crisis, Kalanick was ousted from the CEO role by his own investors. Last week, with eight days left in the decade, Kalanick closed out his entire position in the ride-hail company he founded and departed its board of directors.
In 2010, Adam Neumann founded WeWork, a company that rented out shared office space, part of a new trend in "co-working." By 2016, WeWork was valued at $16 billion and Neumann, its tequila-swigging capitalist-kibbutznik-in-chief, planning for the WeGeneration. Over the past three months, WeWork, now known as The We Company, pushed out Neumann as CEO, pulled its IPO, struck a bailout deal with lead investor SoftBank that shredded its valuation, and said it would lay off some 2,400 employees. Neumann finagled a unicorn-sized exit package and last week decamped to Israel, his latest in a series of travels to escape the "negative energy" of New York City.
The 2010s was the decade of founders like Kalanick and Neumann, whose charisma, arrogance, grandiosity, and ambition helped them build great companies and also nearly destroyed them. Kalanick's and Neumann's arcs have nice parallels, but there are others: Elizabeth Holmes, Parker Conrad, central-casting villain Anthony Levandowski.
Where are they now? Kalanick launched a venture fund, netted several billion dollars from Uber, and is working on a kitchen-leasing business (already valued at a theoretical $5 billion, thanks to a hefty investment from Saudi Arabia's sovereign-wealth fund). Neumann is globe-trotting (flying commercial, now that WeWork sold his jet), taking bids on his Gramercy penthouse, and waiting for his $1.6 billion exit package to grow even larger. Parker Conrad, who was ousted from HR startup Zenefits for cheating California compliance rules, has a new HR company. Holmes will be tried in federal court in San Jose this summer, and faces up to 20 years in prison. Levandowski's trial is set for 2021.
Possible prison sentences aside, life in infamy is not so bad. Uber's and WeWork's stories are getting TV treatment and Theranos made into a film starring Jennifer Lawrence, immortalizing the founders of these companies in the popular culture. People are still willing to fund Kalanick and Conrad—men who can build great companies, even if they also almost ran them into the ground—and almost certainly someone would finance a new project from Neumann. Everyone is looking for that founder who seems able to bottle lightning, making their mistakes more likely to be forgiven. The 2010s were the Travis years, but there's no reason why the 2020s couldn't be as well.
Notable 2019.
Quotable 2019.
"To make something very precious, you have to apply a lot of pressure" –Adam Neumann
"Noah's Ark represents a covenant between God and the people to never destroy the world" –Adam Neumann
"Adam grew up on a kibbutz and likes to walk barefoot. He is a kibbutznik. Should we ask him to stop?" –unnamed Adam Neumann spokesperson
"Too much money actually is probably what kills companies" – Kevin Talbot, Relay Ventures
"The IPO is a spiritual cleanse" –Marc Benioff
"I am a Grinch" –Nick Evans, CEO of Unicorn
Best of: WeWork.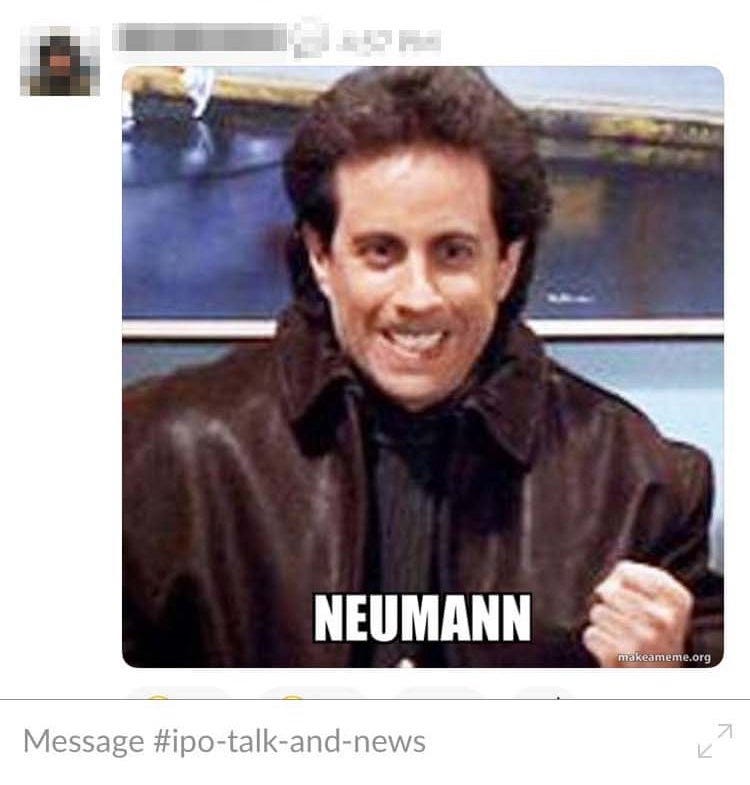 The I in We (New York Magazine)
How Adam Neumann's Over-the-Top Style Built WeWork (Wall Street Journal)
WeWork was a family affair, until things got complicated (Bloomberg)
Cancer-causing chemical found in WeWork phone booths (The Guardian)
WeWork's Neumann Loses Billionaire Status (Forbes)
The Sun Sets on We (New York Mag)
The Fall of WeWork: How a Startup Darling Came Unglued (WSJ)
The Money Men Who Enabled Adam Neumann and the WeWork Debacle (WSJ)
Worst of: charts.
Who needs a Y-axis label?
Credit: Bird/Travis VanderZanden
Trust me it is all going well.
Credit: WeWork
I SAID TRUST ME, WHY DO YOU WANT THE AXIS LABELS, LOOK AT THAT NICE GRADIENT ARROW I MADE FOR YOU
Credit: SoftBank
RIP.
Best of: other stuff.
Shared Scooters Don't Last Long. A Silicon Valley Studio Apartment Is Being Rented to Two Cats. Criminals make getaways on shared electric scooters. Scooter-riding thieves nabbed in Hollywood. Dropbox evacuates office after electric scooter catches fire. Hundreds lose driver's licenses for drinking and scooting. Uber Driver Pulls Out Sex Toy on Cops Who Feared It Was a Gun. Uber will take "years" to make a profit, CTO says. Uber CEO says business is 'absolutely sustainable.' Uber CEO predicts profitability by 2021. Invest in the gig economy with this ETF. Uber paid Beyonce $6 million in stock to play at a party. Online groceries are causing a cold storage shortage. We Hired Three Fiverr Workers to Write About Fiverr's IPO. Tip Your Delivery Worker in Cash. Rich, semiretired millennials. Barnacle bike. Scooter repos. E-unicycles. "Founders are always killing it."
---
Thanks again for subscribing to Oversharing! If you, in the spirit of the sharing economy, would like to share this newsletter with a friend, you can forward it or suggest they sign up here.
Send tips, comments, and 2020 thoughts to @alisongriswold, or oversharingstuff@gmail.com.