Saudi money has flooded Silicon Valley
CXXIX
Hello and welcome to Oversharing, a newsletter about the proverbial sharing economy. If you're returning from last week, thanks! If you're new, nice to have you! (Over)share the love and tell your friends to sign up here.
Free riders.
How do you get people to take more public transit? One option is to make it free:
One month ago, Dunkirk – with a metropolitan population of 200,000 – became the largest city in Europe to offer free public transport. There are no trams, trolleybuses or local commuter trains, but the hop-on-hop-off buses are accessible and free – requiring no tickets, passes or cards – for all passengers, even visitors.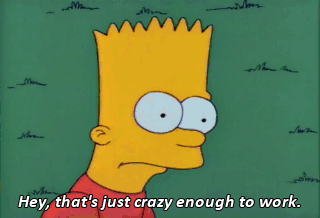 Dunkirk's system was inspired by Tallinn, Estonia, the first European capital to provide fare-free service on buses, trams, and trolleys to registered residents. Locals pay €2 for a "green card" that gives them unlimited free trips. The program started in 2013 and, as of 2016, Tallinn claimed it was turning a €20 million-a-year profit.
Free public transit, once impossibly radical, is gaining popularity. Dunkirk joins roughly two dozen French cities that have gone fare free. Aubagne, for example, made transit free on 11 bus routes serving 100,000 residents in 2009. Over the next three years, bus ridership rose 142% and car trips decreased 10%, according to a 2013 article in Metropolitiques. In Châteauroux, eliminating fares in the early 2000s revitalized the town's ailing transit system and catapulted its mayor to immense popularity. Five German cities said earlier this year they would try free public transit, though they've since decided to dramatically reduce fares rather than waive them entirely.
One month in, Dunkirk mayor Patrice Vergriete told the Guardian the project is a huge success, with ridership up 50-85% on certain routes and the city expanding its bus fleet to 140 from 100 vehicles. Vergriete said fares previously raised only 10% (€47 million) of the system's annual operating costs, a difference the city has made up by raising the versement transport, a public transport tax on companies with more than 11 employees. "You can't put a price on mobility and social justice," he said.
Deals.
On the other side of free transit is the $299-a-month plan Lyft announced on Oct. 16. The "all-access" plan includes 30 rides of up to $15 each—go over and you pay the difference—plus 5% off additional rides. At that price, you'd break even if your average ride cost $10. The best you could do would be to take 30 rides of exactly $15, giving you $450 of value for the initial price of $299. Lyft said all-access would cost 59% less than having a car, an assertion supposedly based on 2018 driving costs from AAA (there is no explanation of the math, but it would be interesting to see it).
Of course, who really knows if this is a good deal. Since Uber and Lyft introduced upfront pricing, the practice of making you agree to a set price at the start of the ride, rather than charging at the end based on time and distance, fares have fluctuated wildly. The companies will tell you their prices are best estimates based on time, distance, traffic, demand, and other conditions, but these explanations are just vague enough to be a black box. When the prices you pay are always changing with little apparent rhyme or reason, you're poorly equipped to evaluate whether the offer is any good. That may be why Lyft at some point began putting "Good deal" in small gray text under prices that it, at least, considers a good deal.
I like to use the analogy of a grocery store. Imagine if every grocery store had no visible prices because they constantly fluctuated, and so you put stuff in your cart and then were given the price only as the cashier rung each item up. You would still know the price "upfront" in that you don't pay before checking out, but you also would have little way of knowing whether the costs being shown were fair, and equally little time to evaluate them. Should your box of pasta be $2.39, or should you come back another day and hope for $1.75? Is milk a "good deal" at $4.39 because the cashier tells you so, or only because you've lost all relative sense of what milk should cost?
This, essentially, is what happens with rides in the world of upfront pricing. (You can imagine the grocery example actually occuring at a store like Amazon Go in the not-so-distant future.) Riders can compare prices across apps, but they're hard pressed to know what a ride "should" cost, the way you're trained to know at your local grocery when a price is good, regular, or a rip-off. Going through old rides offers little help. Rider receipts on Uber and Lyft are a jumble of addresses and prices, without much explanation of how the companies came to their price quote. Every decision is made in the moment: will I pay $5.07 to go to my meeting now? Is $21.08 a good price to get home in a shared ride on the weekend? There is no base price anymore, at least not one the rider can easily access, and so every decision is made based on willingness to pay in that moment. I suppose in that sense Lyft all-access takes some of the guesswork out.
Ubernomics.
At the risk of navel-gazing, I am fascinated by the responses to my profile of Uber's internal economics department, which split squarely down the middle. For instance, here is Marshall Steinbaum, research director at the liberal Roosevelt Institute:
Here is an academic who thought it was a "great write-up on Uber's shady research practices" (his thread has a nice overview of Uber's previous academic ventures):
Here is another guy on Twitter:
And then here is Uber, in an Oct. 22 email blast from Danielle Burr, Uber's head of US federal affairs: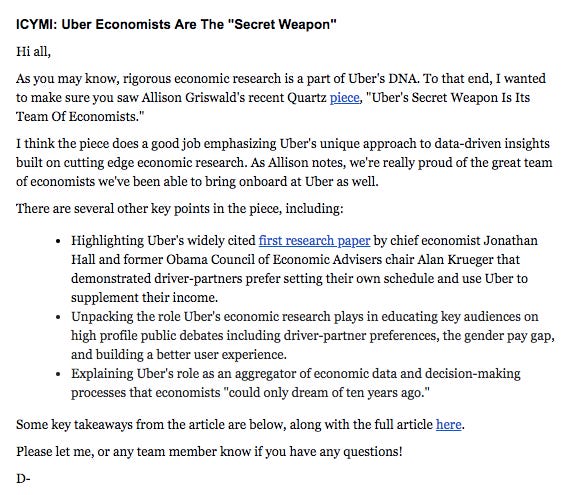 I'm assuming all of these people read the same story, though it's possible Uber happened on an alternate version written by this Allison Griswald character. At any rate, you see how different the reactions are. "It's a Rorschach test for two different critiques of econ," one economist told me. The two critiques are: 1) econ is useless pseudoscience and 2) economists are shills for plutocrats. The article appears to refute the former (for-profit companies want to hire economists), while confirming the latter (companies like Uber are co-opting academia). Depending on what you have in mind going in, you can read the story as supporting either of your beliefs.
Dirty money.
Saudi Arabia has invested billions if not tens of billions of dollars in Silicon Valley, an arrangement no one seemed to mind until the horrific death of Washington Post columnist Jamal Khashoggi at a Saudi consulate in Turkey earlier this month. Much of that money was funneled through Softbank's $100 billion Vision Fund, which received a $45 billion commitment from the Saudi sovereign wealth fund in 2017 and a promise to double that initial bet on Oct. 5. "We are the creators of Softbank Vision fund," crown prince Mohammed bin Salman told Bloomberg in a recent interview. "Without the PIF, there will be no SoftBank vision fund."
The Saudi Public Investment Fund put $3.5 billion behind Uber in June 2016. Kingdom Holding, the investment firm of prince Alwaleed bin Talal, led a $248 million investment into Lyft in December 2015. Other Saudi investments include virtual-reality startup Magic Leap, social media network Snap, and 3D-printing company Desktop Metal. In August, after a series of haphazard tweets, Elon Musk claimed the sovereign wealth fund owned 5% of Tesla's publicly traded stock and had approached him "multiple times" about taking Tesla private.
Silicon Valley executives seem to realize this is a bad look. Uber CEO Dara Khosrowshahi, for example, pulled out of Saudi Arabia's "Davos in the Desert," saying he was "very troubled" by reports about Khashoggi. Other dropouts include JPMorgan CEO Jamie Dimon, Blackstone CEO Stephen Schwarzman, and Ford chairman Bill Ford. Even Softbank's Masayoshi Son has now canceled his speaking appearance. No one, on the other hand, is talking about giving back Saudi money, with the notable exception of Richard Branson, who said he suspended talks over a $1 billion Saudi investment in Virgin's space companies.
You could argue this is the cost of doing business. Uber needed money and so at some point it took it from Saudi Arabia. So did Lyft, and Snap, and plenty of others, either directly or through an investment from Softbank's Vision Fund, which at this point seems to be bankrolling half of Silicon Valley. When you are a startup that loses massive amounts of money and depends on the generosity of private investors to subsidize your business, you can't always be picky about who you're taking that money from. That would be a reasonable enough perspective except that in Silicon Valley it naturally conflicts with the professed ethics and liberal-mindedness of many startups and their workforces. Those companies and workers now have to decide whether they can justify the compromise to themselves.
Other stuff.
Sidewalk Labs spin-out raises $5 million to develop transit infrastructure in cities. Top dealmaker Cameron Poetzscher resigns from Uber after sexual misconduct allegations. Drive.ai brings self-driving cars to Dallas Cowboys stadium. Uber adds clean-air fee to London rides. Uber will appeal Singapore ruling on merger with Grab. Careem has way more women drivers than Uber in Saudi Arabia. Barcelona Airbnb Host 'Manages Rentals Worth £33,000 a Day.' Uber detours into temporary staffing ahead of IPO. Uber raises $2 billion in junk bond sale. Rent the Runway installs clothing drop boxes in some WeWork offices. San Diego rescinds tough rules on Airbnb. Uber plans to expand food delivery to 70% of the US. Delivery robots poised to land in Dallas. Dunkin' Donuts puts tiny home on Airbnb. Uber commits $10 million to push for congestion pricing and sustainable transit. Jamie Diamond bets on Silicon Valley with fintech campus. An Alternative History of Silicon Valley Disruption. Haunted Airbnbs. "We need flying burgers."
---
Thanks again for subscribing to Oversharing! If you, in the spirit of the sharing economy, would like to share this newsletter with a friend, you can forward it or suggest they sign up here.
Send tips, comments, and fare-free transit stories to @alisongriswold on Twitter, or oversharingstuff@gmail.com.