Ride-hail startup Juno seeks a buyer
CXLVII
Hello and welcome to Oversharing, a newsletter about the proverbial sharing economy. If you're returning from last week, thanks! If you're new, nice to have you! (Over)share the love and tell your friends to sign up here.
---
Selling out.
Juno, the New York ride-hail service that promised to treat drivers well, is seeking a buyer as it struggles to comply with local rules on driver pay. The company has been circulating a short pitch deck headlined "Unique opportunity to consolidate NYC market." The document describes Juno as the no. 3 player in the New York City ride-hail market, with 14 million rides in 2018. It says Juno had a run rate of $270 million in sales and about $40 million in commissions from those sales as of January (presumably 12-month run rates, but the deck I reviewed doesn't specify). Crain's previously reported Juno was losing $1 million a day and for sale at a nominal price, citing a person familiar with the matter.
Juno was founded by Talmon Marco, an Israeli-American entrepreneur known for creating copies of hot internet companies and flipping them for a profit. His biggest success to date was Viber, a call and messaging app similar to Skype that sold to Japanese e-commerce giant Rakuten for $900 million in February 2014. Juno got bought by competitor Gett, an Israeli ride-hail company that had struggled to gain a foothold in New York, in April 2017 for about $200 million. Gett also operates in Israel, Russia, and the UK. It now appears to be trying to unload Juno as it contemplates its own IPO and aims to be "operationally profitable" by October.
In New York, Juno claims it has been hurt by legislation to raise driver wages passed by the city in December and implemented by the local taxi regulator on Feb. 1. The pay rules put in place by the taxi commission are based on a so-called utilization rate and require ride-hail companies to pay drivers at least $17.22 an hour after expenses.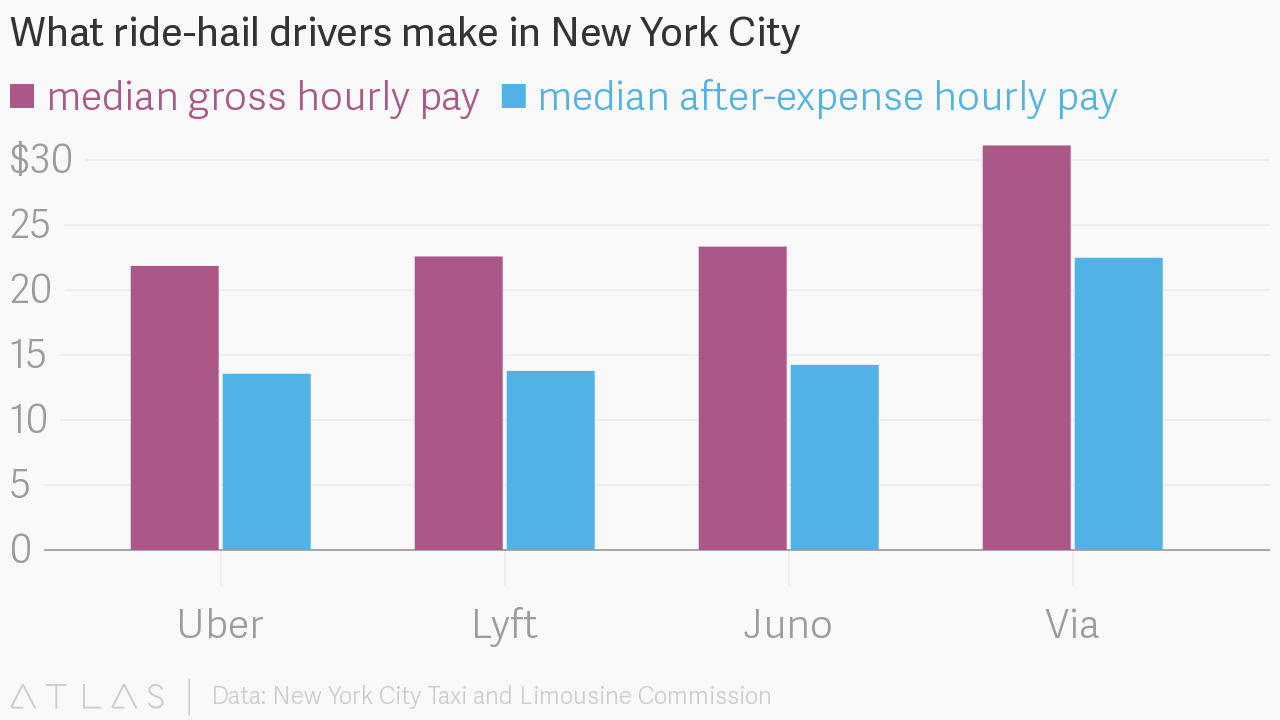 Juno and Lyft each sued the city over the pay rules and underlying utilization formula on Jan. 30. In an affidavit filed March 12 in New York State Supreme Court, Juno CEO Ronen Ben-David said the company had "incurred significant increased costs" to comply with the pay rules, but that both ridership and average hourly pay to drivers had declined. He said ridership had fallen 30% in February compared to January, while average hourly driver earnings were down 17% from the previous month.
In a separate affidavit also filed March 12, Lyft general manager for New York and New Jersey Ann Ferracane said Lyft raised ride prices to comply with the new pay rates and had since seen a "significant decrease" in the frequency of passengers requesting rides and total rides in the market. Ferracane previously estimated it would cost Lyft an additional $2.3 to $2.5 million per week to comply with the taxi commission rules, depending how they were implemented.
Juno withdrew its lawsuit last week; Lyft's continued to a hearing on Monday, after which a judge denied the company's request to temporarily halt the pay rules. The judge will rule in 30 days on whether to make that order permanent. Lyft maintains that the pay rules as implemented "hurt earning opportunities for drivers, and provide advantages to certain companies over others," by which it means Uber, although smaller shared rides competitor Via has actually come out the best in all of this. Lyft believes that paying drivers higher rates, as mandated by the taxi commission, requires either that the company absorb enormous losses or raise rates on the passenger side, which depresses demand, which means less work and ultimately less money for drivers, undercutting the goal of the pay rules in the first place.
The logic isn't wrong, but it's also the consequence of a market in which demand was artificially inflated by cheap fares for riders and low, volatile earnings for drivers. The danger in any subsidy model is that when prices finally revert to the true cost of the service, some users might lose interest. Blue Apron, the meal-kit company struggling not to become a penny stock, knows this well; defunct food delivery services like Maple and SpoonRocket learned it the hard way. New York created the taxi medallion system to prevent taxi supply from exceeding demand, so that cabbies had consistent work, but over time pent-up demand from the medallions became the bigger problem, compounded by the decline of the subway system. Uber and Lyft gave this demand an outlet and fueled it with discounts for riders and bonuses for drivers. Eight years into the experiment, there are too many drivers chasing passengers who've grown accustomed to subsidies and don't always want to pay the real cost of a ride, causing ridership to drop off when prices rise. Whose fault is that?
Home rentals.
Elsewhere in regulation, Airbnb and competitor HomeAway lost a big fight over a stringent short-term rentals regulation in Santa Monica, California.
Santa Monica's law holds home rental companies liable for bookings that aren't officially licensed by the city. Airbnb argued that violated the 1996 US Communications Decency Act (CDA), which says online services aren't liable for content posted by their users. The Ninth Circuit agreed with the city that the law doesn't run afoul of the CDA and puts only an "incidental" burden on the companies' right to free speech, a decision that could have sweeping consequences:
The courts' interpretation of the 1996 law and the protection it affords interactive online businesses has become a central theme in legal challenges to Airbnb and its rivals. Federal judges in San Francisco and Los Angeles have found that cities can hold the companies liable for processing transactions, as opposed to simply listing information from users. Yet in a separate case in Los Angeles, a judge concluded that Airbnb can't be made responsible for renters breaking their leases when they list their apartments on the site.
"Even assuming that the ordinance would lead the platforms to voluntarily remove some advertisements for lawful rentals, there would not be a 'severe limitation on the public's access' to lawful advertisements, especially considering the existence of alternative channels like Craigslist," the judges wrote.
The decision could haunt Airbnb as it scrambles to clean up regulatory messes ahead of an initial public offering rumored for this year or early next. Airbnb and its peers in the home-rental space continue to face pushback for a business model that critics fear is turning housing intended for permanent residents into getaways for tourists. Several cities, including Airbnb's hometown of San Francisco, have forced the company to ditch thousands of unregistered listings in an effort to bring the short-term rental market under control. If Airbnb can be held liable for unauthorized listings as the Ninth Circuit says, that opens the company up to even more risk in US cities where its home-rentals are contested—all the more reason for Airbnb to shore up the business with other stuff like hotel rooms and friendly buildings.
Scooters!
The results of an investigation into e-scooter injuries by the Centers for Disease Control and Prevention and the Austin Public Health Department are expected as soon as this spring, and honestly it's about time. Scooter injuries have nothing on car crashes, of course, but they're still landing plenty of people in the emergency room and have also led to a handful of deaths, most recently a 53-year-old man who crashed into a tree while riding a scooter in San Diego on March 13.
Over at Slate, Rachel Withers has an account of her own recent brush with death when she was hit by a car while riding an electric scooter in Mexico City:
It was on my way back from a morning taco de canasta, scooting legally in the bike lane, that I was broadsided by a white car that decided to turn right, through my lane, without looking, and drive off. I remember nothing except seeing the car at the last second, screaming, wondering if I was about to die, and really hoping I wouldn't. I was stupidly lucky: I ended up with an ER visit, a concussion, a neck injury, and some nasty lacerations that remind me why knee and elbow pads exist, but that's far less than what others have experienced (and I paid far less than what I would have paid for the ER visit in the U.S., too). A local woman riding behind me, also not wearing a helmet, stopped to help, and later wrote in an email that "you flew like a feather and you hit the road as a stone." I don't know what that means, but I do know one thing: I should have been wearing a fucking helmet.
Helmet-less-ness is a common thread among scooter injuries. Earlier this month, Jeff Taylor, a senior epidemiologist at Austin Public Health who is overseeing the scooter injuries study, told CNBC that health investigators had so far found less than 1% of riders wear helmets. The University of San Diego Medical Center, which has tracked scooter injuries admitted to its trauma center since September 2017, found 98% of patients weren't wearing helmets, a little less than half had a blood alcohol level above the legal limit for intoxication, and a little more than half tested positive for drugs.
Some risk will always exist in riding upright on a narrow motorized strip of metal, but there are certain things cities and scooter companies could in theory do to make the experience safer. One option is to have stricter helmet policies, which brings with it the logistical challenge of whether companies that provide shared scooters (or bikes) should be responsible for distributing helmets to riders or otherwise making sure helmets are readily available. Bird to its credit does offer to send free helmets to all active riders (imagine what that does to its unit economics!), but seeing as at least half the appeal of the shared scooter model is convenience, it's hard to imagine the typical rider lugging a helmet around with them all day.
Another possibility would be to lower the top speed at which scooters can travel, particularly in areas known to be busier or more dangerous. San Diego, for example, is may designate "slowdown zones" with a geofenced 8 mph speed limit for scooter riders. Then there is also the mysterious issue of scooters not braking properly, causing their riders to tumble off or, in the case of Nanette Bass in Arlington, Virginia, to jump off at 15 mph to avoid running into oncoming traffic. Maybe we should all take a page from these dudes and stick to using scooters to transport our stuff.
With great power.
Fast Company profiled Masayoshi Son, the "most powerful person in Silicon Valley." Son is the chairman of Softbank, the Japanese tech conglomerate that has pumped enough money into US startups to be almost single-handedly responsible for our thriving herd of unicorns. Softbank led billion-dollar investments in Uber, Didi Chuxing, Oyo, Flexport, Fanatics, WeWork, and Nuro, to name a few. It's currently contemplating an investment of $1 billion or more into Uber's driverless car unit. I feel confident that if I stood on the right street corner in San Francisco for long enough, Softbank would also hand me a billion dollars.
Anyway here is Fast Company:
Computers, Son believes, will run the planet more intelligently than humans can. Futurist Ray Kurzweil coined the term "the singularity" to describe the moment when computers take over—and he predicts it will be here by 2040. The Vision Fund could move up this date. And Son is pouring unprecedented amounts of capital into the people and companies employing artificial intelligence and machine learning to optimize every industry that affects our lives—from real estate to food to transportation.

When Son first detailed his vision, during an investor presentation in 2010—slides depicted chips implanted in brains, cloned animals, and a human hand giving a robotic one a valentine—there were plenty of scoffs. Many see this machine-driven future as frightening, or even dystopian. But Son believes that robots will make us healthier and happier.
Not creepy at all! Despite the rapid onset of the singularity, Son has a "300-year plan," I assume because like any good billionaire he plans to live forever, at which point planning 300 years is about the same as getting Friday drinks on the calendar.
There is also a fun bit about WeWork:
WeWork's potential lies in what might happen when you apply AI to the environment where most of us spend the majority of our waking hours. I head down one floor to meet Mark Tanner, a WeWork product manager, who shows me a proprietary software system that the company has built to manage the 335 locations it now operates around the world. He starts by pulling up an aerial view of the WeWork floor I had just visited. My movements, from the moment I stepped off the elevator, have been monitored and captured by a sophisticated system of sensors that live under tables, above couches, and so forth. It's part of a pilot that WeWork is testing to explore how people move through their workday.
Also not creepy at all! The future is going to be great.
This time last year.
Oversharing took a break while I was in Singapore! Two years ago instead: Jeff Jones departure stuns Uber, Waymo's case against Uber, and Airbnb eyes the skies
Other stuff.
Lyft seeks valuation of $21 billion to $23 billion in roadshow. Zoox seeks additional funding. Uber plans investor roadshow for April. Lyft lays off 50 bike and scooter workers. Lime lost $10,000 a month on bikes in Reno. Capital Bikeshare adds e-bikes for a $1 fee. Scooters descend on Austin for SXSW. Populus raises $3.1 million to help cities parse shared mobility. Brookline approves electric scooter pilot program. Instacart expands alcohol delivery to 14 states. Airbnb weighs investment in Indian hotel management startup Oyo. UK reviewing 184-year-old law that bans electric scooters. WeWork Labs launches incubator for food and agricultural startups. Walmart stumbles on grocery delivery to Manhattan. Amazon meal kits spotted at select Whole Foods. WeWork is watching you.
---
Thanks again for subscribing to Oversharing! If you, in the spirit of the sharing economy, would like to share this newsletter with a friend, you can forward it or suggest they sign up here.
Send tips, comments, and Juno acquisition offers to @alisongriswold on Twitter, or oversharingstuff@gmail.com.