Hello and welcome to Oversharing, a newsletter about the proverbial sharing economy. If you're returning from last time, thanks! If you're new, nice to have you! (Over)share the love by telling your friends to sign up here and hitting the heart-shaped like button on this email.
This is issue number TWO HUNDRED (200) (CC) (yes you guessed right, those are roman numerals in the subhed) of Oversharing 🎉 🎉 🎉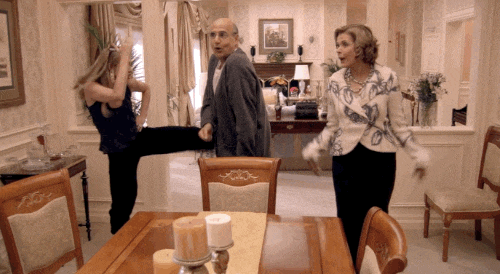 ---
Food fight.
Uber is buying Postmates for $2.65 billion in an all-stock deal sealed with a 'bounce of virtual elbows,' a month after its bid to acquire Grubhub fell apart.
Postmates, founded in 2010, was one of the first companies to pop up that decade vying to change how America eats. By the mid-2010s its competitors, flush with VC funding, included meal-kit companies (Blue Apron, Green Chef, Purple Carrot, Sun Basket—really all you needed was a color and a noun); delivery-only restaurants (Maple, Munchery, Sprig—a sort of precursor to ghost kitchens); and other on-demand delivery companies (DoorDash, Uber Eats, Favor, Bite Squad, and the incumbent Grubhub). Investors saw an Uber-sized opportunity in Food—think of the TAM! everyone eats!—and from 2014 to 2016 they pumped more than $25 billion into the foodtech space.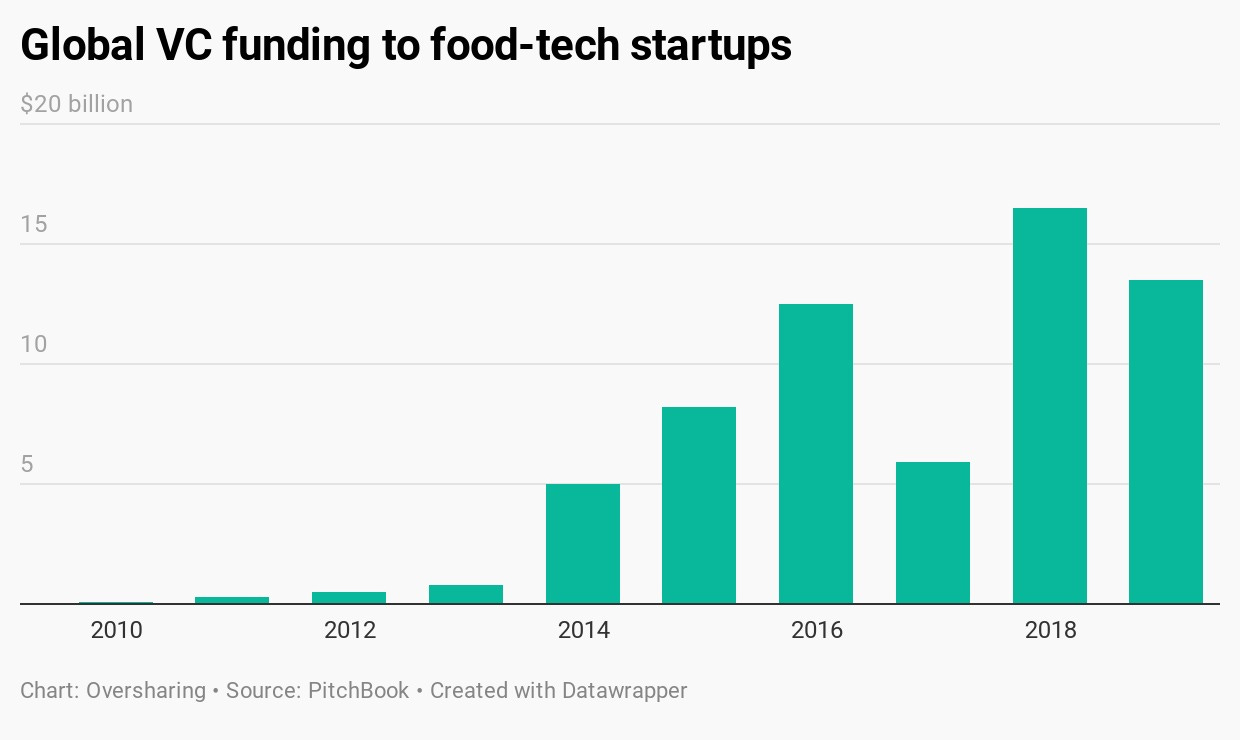 By the end of 2016, Postmates had raised $281 million at a valuation of $751 million. Its competitor DoorDash was in the same ballpark, with $187 million raised at a $717 million valuation. Like many on-demand companies, Postmates promised cheap instant gratification, but had trouble making the math work. Bastian Lehmann, Postmates founder and CEO, said the company would be profitable in 2016, but by the end of that year it expected to lose nearly $60 million instead. Lehmann, who had pushed his profitability target before, bumped it again and circulated rosy slides to investors that showed steep losses becoming profits by 2018 on projections of more than $3 billion in sales.
Over the next few years, Postmates fell behind. By 2019, DoorDash's valuation had leapt to $12.3 billion, thanks to a series of late-stage financings led or joined by unicorn enthusiast SoftBank, while Postmates' hovered at $2.4 billion. Transaction data from research firm Second Measure showed DoorDash eclipsing Grubhub in US monthly food delivery sales and growing its market share to more than 40% as of May 2020, while Postmates' share remained in single digits. Postmates still had its stronghold of Los Angeles and A-list celebrities (Kendall Jenner spent over $10,000 on Postmates! Seth Rogan averages $4,200 a year!) but it lagged DoorDash, Grubhub, and Uber Eats in most other major metro markets. Draft IPO paperwork filed confidentially with the SEC in February 2019 never saw the light of day and the IPO, like Postmates' profitability target, was repeatedly delayed.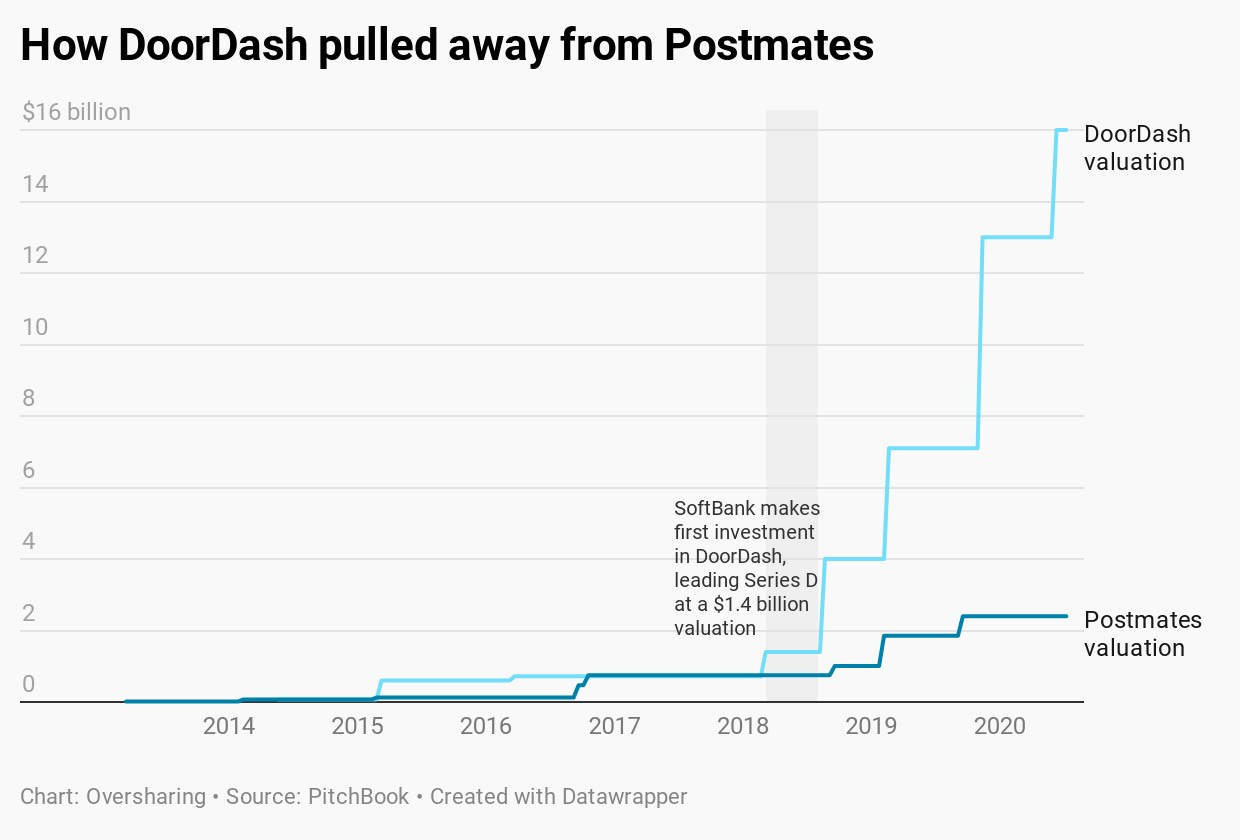 Uber's deal with Postmates comes a month after a bid to buy Grubhub crumbled, on pricing disagreements and regulatory concerns, depending who you ask, and Grubhub was scooped up by European firm Just Eat Takeaway (itself the result of a recent merger) for $7.3 billion. That deal set up Grubhub-Just Eat Takeaway to be the world's largest food delivery company outside of China. Uber once sought similar status but over the past year has pulled out of competitive international markets like South Korea and India, and several smaller global markets, after CEO Dara Khosrowshahi said Uber would focus on places where Eats could be the no. 1 or no. 2 player.
What does Uber get with Postmates? The deal is "expected to enhance Uber Eats' financial profile and accelerate Uber's path to profitability," says the investor briefing (pdf), with "$200M+ of run-rate synergies," a favorite magical M&A term. The presentation says Postmates did $643 million in sales ("gross bookings") in the first quarter of 2020, from which it took $107 million in revenue, but says nothing about profit or loss. There's an interesting note that Postmates is managing nearly three trips per hour "in strategic markets," a frequency at which most on-demand delivery experts will tell you the unit economics should be profitable, i.e., the company makes more money from those deliveries than it pays in labor and other costs.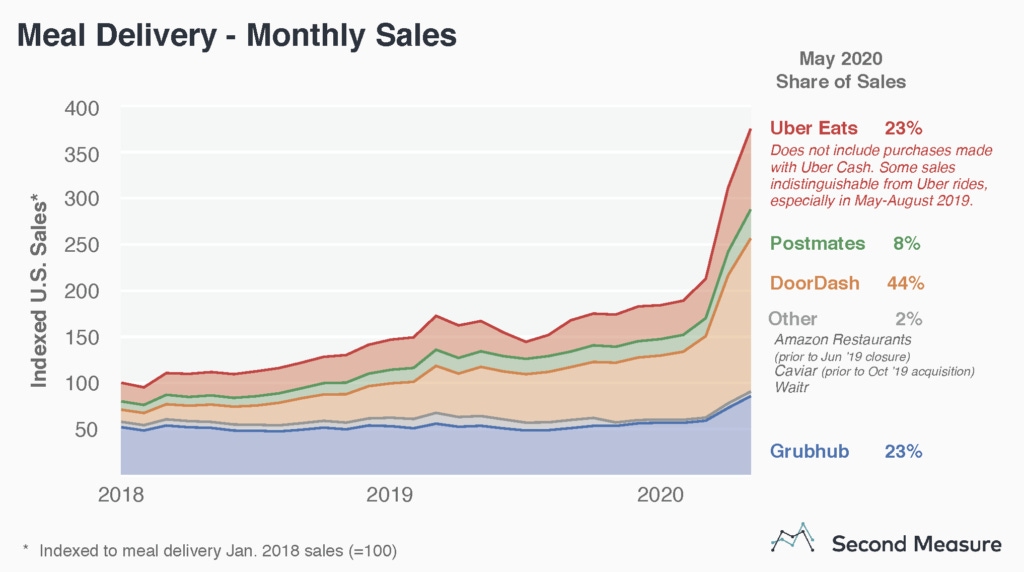 So, Uber gets batching/delivery efficiency, control of the LA market, some super loyal celebrities, and enough new market share to overtake Grubhub as the no. 2 US player, while staying solidly behind DoorDash. Add in some international deals, most recently the launch of on-demand grocery in Latin America and Canada, and Uber continues along its path of becoming every bit as much a delivery business as it is a rides one. "I think it's going to be 50-50," Khosrowshahi said in a TV interview this week.
A popular view these days is that consolidation in food delivery will let the market come to its senses, or "rationalize" in analyst jargon. Right now, all the major US food delivery cos. are losing money: Uber Eats lost $313 million in segment adjusted EBITDA in Q1 on $819 million in revenue; Grubhub lost $33 million on $363 million in revenue; neither DoorDash nor Postmates have said they're profitable. The theory is that once there is less competition, the surviving firms will finally tire of financing free pizza and focus on profits, trading subsidy wars for higher prices and more sustainable operations. Here is Benjamin Black, an analyst at Evercore ISI, expressing that view to Bloomberg: "You had four players who were very aggressive on price and were essentially giving away food for free," says Black. "Rational pricing will start to kick in after consolidation."
The problem is that (1) no one knows if this will actually happen and (2) there is still little evidence that the food delivery market can reach an equilibrium in which everyone involved—delivery companies, restaurants, delivery workers, and customers—is satisfied. Delivery companies have only so many ways to improve their economics: increase efficiency, take a bigger cut from restaurants, pay less to workers, and charge more to customers. Efficiency is crucial but it can only be increased so much and everything else on that list skews the equation for someone else: restaurants struggling to survive on margins that were plenty thin before the pandemic; gig workers skating by on piecemeal wages; price-sensitive customers with limits to what they will pay, especially after years of venture-capital subsidies taught them to expect convenience at an artificially low price.
We talked in May, when it still looked like Grubhub might join forces with Uber, about how Grubhub is a rational player in an irrational market. Grubhub had a good, profitable business—aggregating restaurant orders, basically lead generation—before it was forced to shift into full-fledged delivery to keep pace with DoorDash, Postmates, Uber, and the billions of venture capital dollars flooding the industry. In recent years that pivot has eaten away at Grubhub's profits and turned them into losses as operations and support costs have ballooned, to 59% of revenue in the latest quarter. Meanwhile, DoorDash just raised another $400 million at a valuation of $16 billion, or roughly 2.5x Grubhub's market cap. You can talk about a rational market all you want, but until investors also rationalize, the food fight is on.
Fare play.
Uber plans to let drivers throughout California set their own fares in its latest effort to establish that drivers are independent contractors and not employees under AB5, the law California passed last year that set tighter standards for classifying workers as contractors. Here is the San Francisco Chronicle:
Uber drivers in Los Angeles, Bakersfield, San Diego, Fresno and surrounding areas now can set trip fares as a multiplier of Uber's existing time and distance rates. They can charge as little as half the standard fare and as much as five times the standard. Those choices come in increments of 10%, so a driver could charge 30% above the regular fare, for instance. They also can stick with Uber's default rates.

Uber said it will expand the name-your-price regime to the San Francisco region in the coming weeks.
It would be a big experiment even if we weren't also living through a global pandemic that has seriously depressed demand for Uber rides.
Coronavalley.
This was exactly the story I wanted to read on the surrealist corporate art form that is SoftBank CEO Masayoshi Son's investor PowerPoints. (Last quarter's highlight, in case you missed it: a slide titled "Valley of the Coronavirus" featuring two unicorns plunging into an egg-shaped chasm while a third, winged unicorn flies free over the grass on the other side. Do unicorns even have wings? The internet is split on this point but I don't think they do, and it is sort of fitting that even a SoftBank depiction of a literal unicorn would be somewhat fantastical.)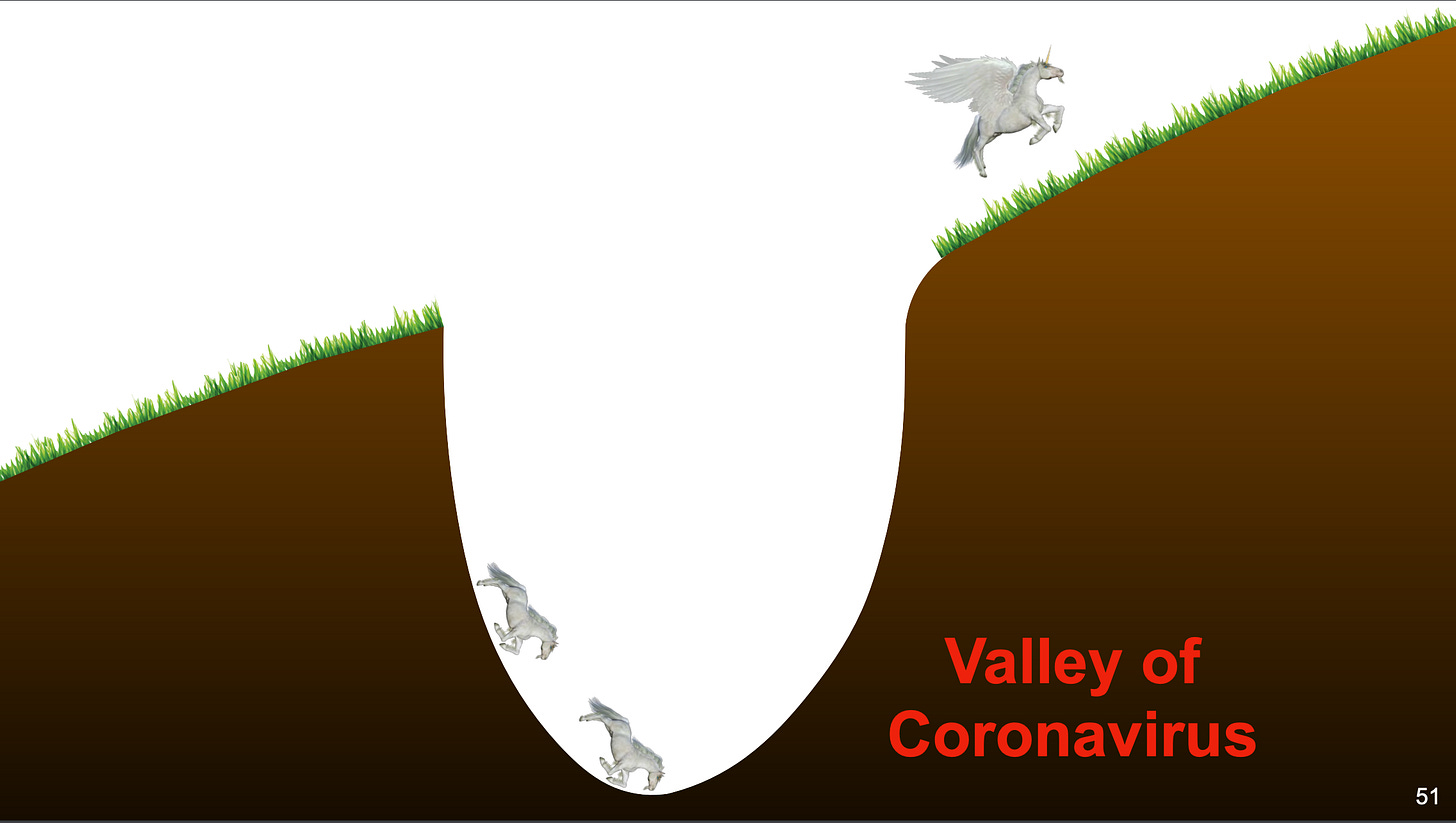 I always imagined SoftBank paid a ridiculous amount of money to a high-powered consulting firm like McKinsey or Bain to produce its absurdist, clip-art laden slides, but according to Bloomberg it's an inside job:
Son, 62, is closely involved in making the slides. He has a team of about a half a dozen up-and-coming SoftBank employees in their late 20s and early 30s responsible for drafting the presentations, according to former staffers. They collect his pronouncements throughout the year to use as fodder for drafts that Son carefully vets, sometimes making last-minute changes that send the staff scrambling.
Up-and-coming SoftBank employees! Can you imagine being in your early 30s and tasked with tailing the CEO, collecting his odd metaphors and pronouncements and pondering how you can turn them into a PowerPoint for investors? Or spending hours laying out a rainbow-colored herd of unicorns galloping up a theoretical growth chart. It'd be like, "yeah, had to stay late, Masa thought the gold unicorn should be bigger so I had to redo everything. Yeah it was a long day."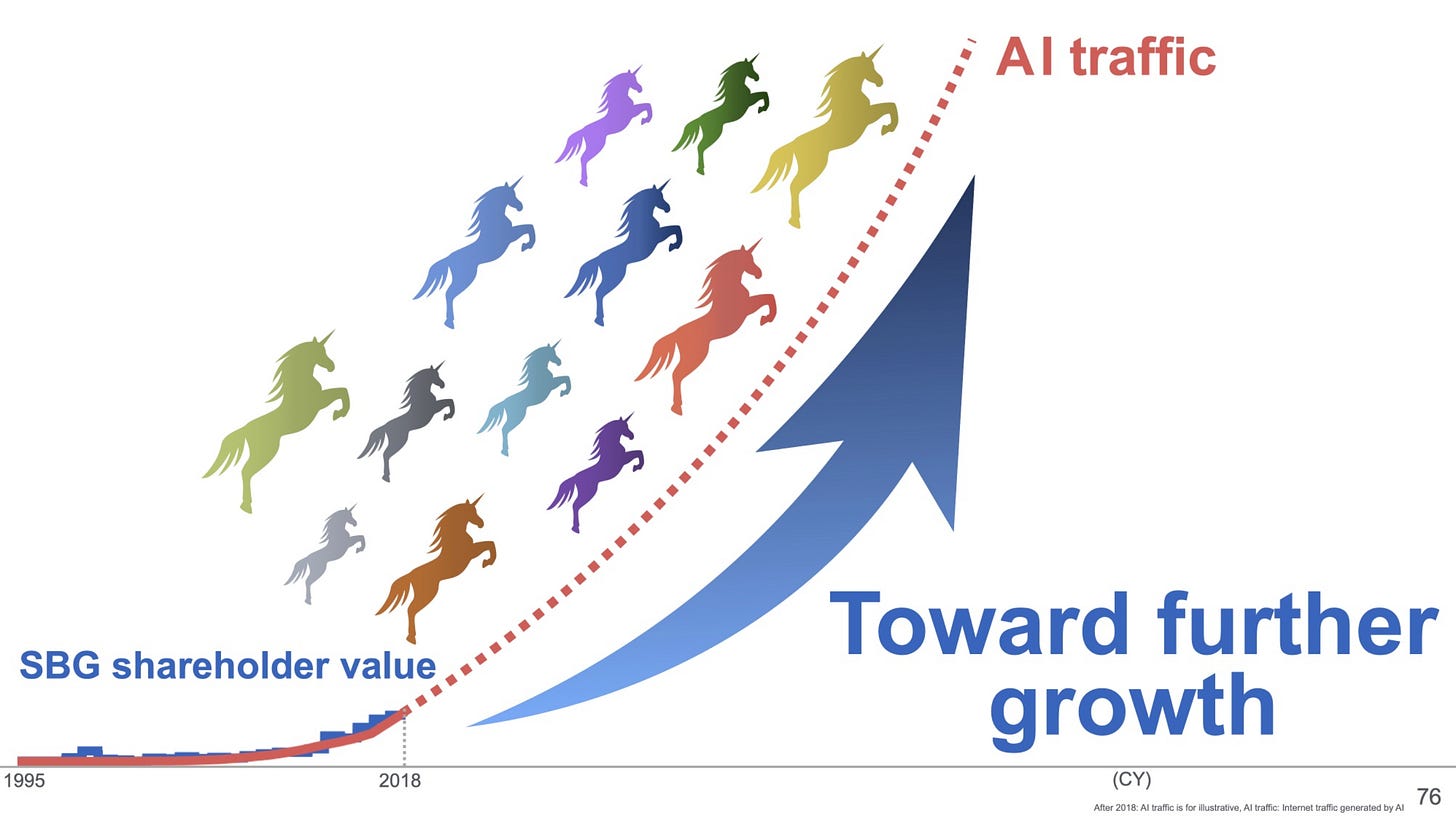 This time last year.
Tip your delivery worker in cash
Where would WeWork be without SoftBank?
Overshearing.
This week's Overshearing is from Oversharing Chief Gif Officer John H. "The house I'm staying in has limited A/C," he says, "so removing surplus hair was a high priority."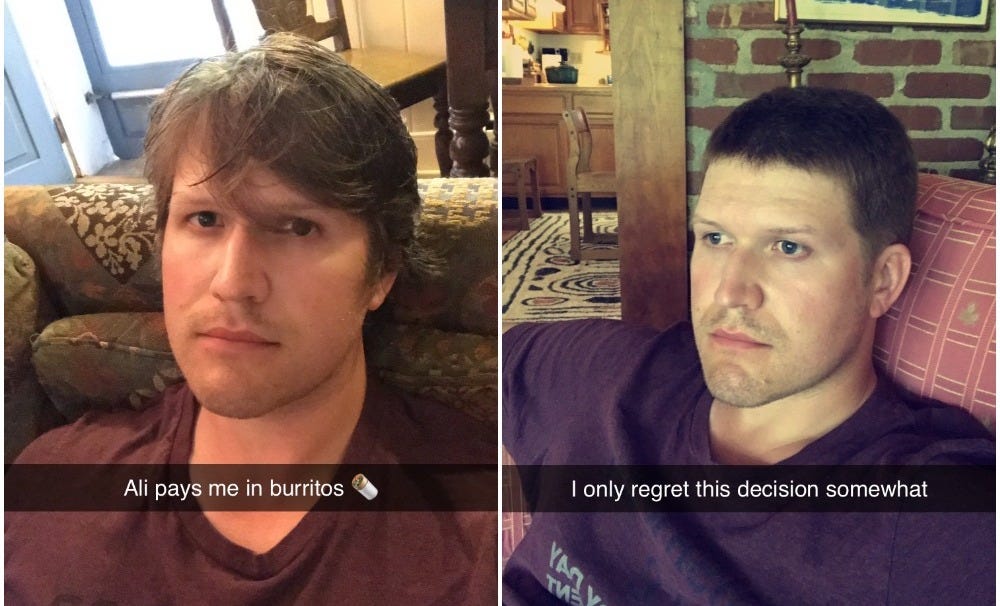 (It's true, I do pay him in burritos.)
Other stuff.
Rebekah Neumann buys back WeGrow. WeWork sells Flatiron School to Carrick Capital Partners. Amazon paying more than $1 billion for Zoox, plus stock awards to retain staff. Elon Musk says fully autonomous Teslas are "very close." Online used car seller Shift plans IPO on boost from Covid-19. Fintech for freelancers startup Willa raises $3 million. France considers new protections for gig workers. Airbnb cracks down on house parties. Tough times at Oyo. WeWork drops lease in Baltimore, tenants in London, asks UK council for 18 months' free rent. Instacart raises $225 million at $13.7 billion valuation, with orders up 500%. British online grocer Ocado relaunches shopping app after it crashed in March. Yandex mulls buying out Uber's stake in ride-hail venture. Uber agrees to $3.8 million fine in Denmark. Uber battles cities over user data. Where are all the Uber bikes? In the junkyard. Oh wait some of them survived. SoftBank's pandemic investing plan. Uber Boat. Accidental ghost kitchens. Five-star meal kits. WeWorking while Black.
---
Thanks again for subscribing to Oversharing! If you, in the spirit of the sharing economy, would like to share this newsletter with a friend, you can forward it or suggest they sign up here.
Stay safe in these crazy times! Send tips, comments, and Postmates receipts to @alisongriswold, or oversharingstuff@gmail.com.